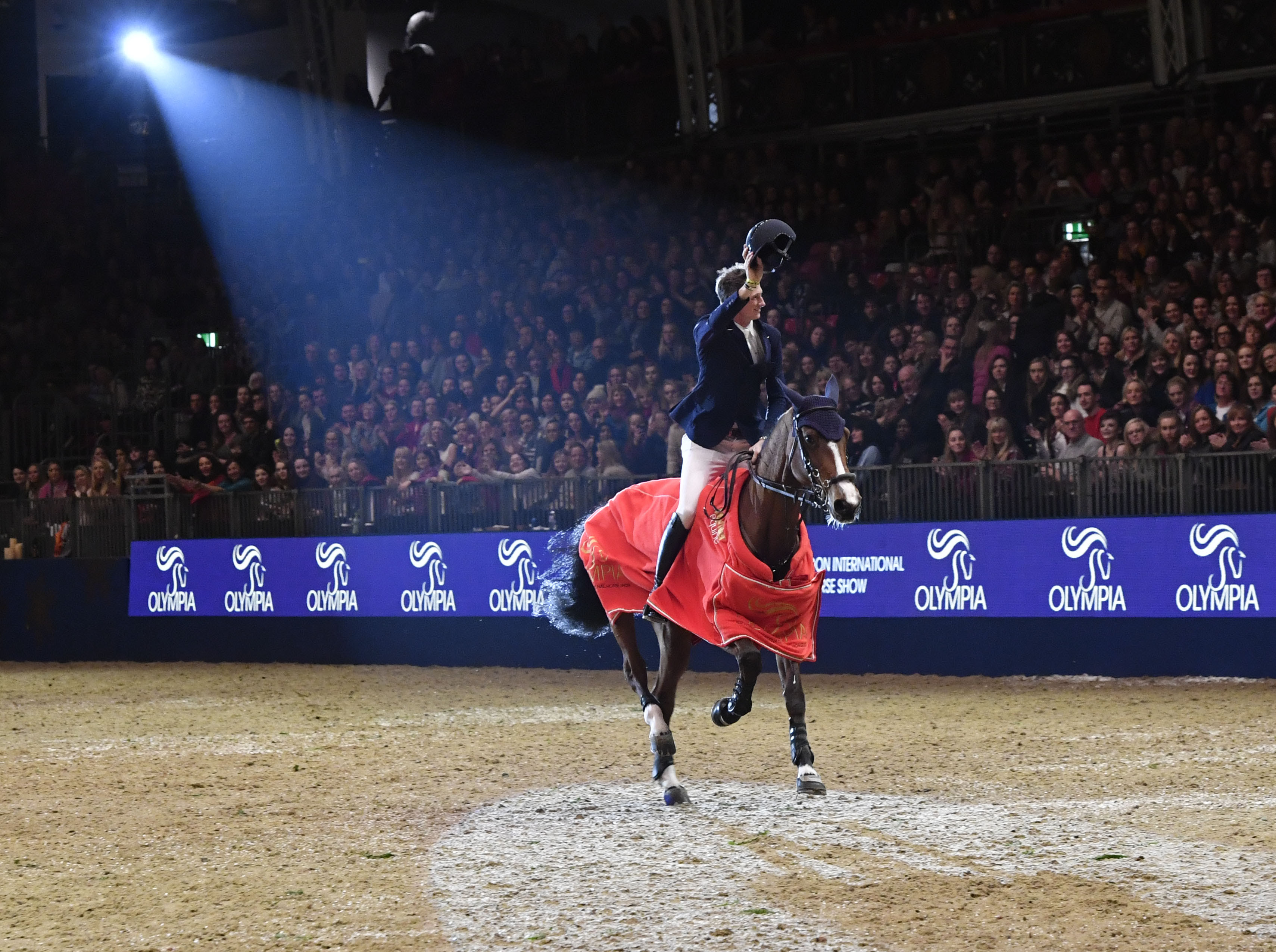 Via: Revolution sports
Media Release: Monday 19 December 2016
The final day of Olympia, The London International Horse Show, saw Daniel Deusser, an Olympic bronze medallist in Rio, win The Olympia Grand Prix in a nail-biting final against some of the world's best Show Jumpers. Earlier in the afternoon, the sell-out crowd watched over as Darragh Kenny cruised to the top of the leader board in the Holly Speed Stakes, supported by Olympia. Jodie Hall McAteer took control in a lightning round in the Mince Pie Stakes, and Britain's Leading lady rider Laura Renwick shared the Six Bar title with Geir Gulliksen.
FINAL DAY SAW ACTION PACKED WORLD-CLASS SHOW JUMPING
Daniel Deusser (GER) capitalised on a late draw to win the Olympia Grand Prix in splendid style, Longines FEI World Cup™ hero Scott Brash (GBR) finished third and Malin Baryard-Johnsson (SWE) hung onto the top spot in the H&M Leading Rider of the Show rankings at the culmination of a week's thrilling equestrian sport at Olympia, The London International Horse Show. The Grand Prix, the final class of the show, attracted a high-class field but only six riders managed to go clear over another brilliantly executed Kelvin Bywater track.
Olympic gold medallist Laura Kraut (USA), first to go in the jump-off, was nearly jumped off Cavalia at the last fence, having hit three rails; German maestro Marcus Ehning had an unexpected two rails down on Gin Chin van het Lindenhof; and both Steve Guerdat, eventual fourth on Corbinian, and Scott Brash, third on Hello Guv'nor incurred four faults. Edwina Tops-Alexander (AUS) was masterful with a clear round on the inexperienced bay mare California but her time of 52.33 seconds looked infinitely beatable, and so it proved when last to go Daniel Deusser executed a beautifully accurate round on the 12-year-old Equita van T Zorgvliet. "I had plenty of time to think and I knew exactly what I had to do," said a visibly elated Daniel, who also won the opening jumping class of the show on Thursday. "I thought it was a difficult class – the fences came up quickly and the jump-off course was tricky, just as in the World Cup yesterday."
Edwina Tops-Alexander who has a punishing Christmas schedule ahead, with a flight to a show in Doha tomorrow said, "my mare is only nine and this is only her fourth or fifth indoor show, and there's a lot to contend with, what with the tight arena and snowflakes falling, etc. It was a really technical course, not massive, but tricky." Earlier in the day, Laura Renwick and perennial Norwegian visitor Geir Gulliksen made it through to the fifth and final round of the Six Bar, at which point they opted to share the spoils rather than jump again.
The temperature in London might be colder than Irishman Darragh Kenny is used to – he's mainly based in Florida – but he found a warm welcome on his first visit to Olympia and notched up a second victory here, in the Holly Speed Stakes on the 11-year-old mare Fixdesign Funke van't Heike with a clear in 46.78 seconds. William Funnell, riding Billy Angelo, was the first to break the 50-second barrier with a smooth round in 47.92 seconds, and managed to hold on to second place with none of the 11 riders after Darragh managing to trouble the two leaders. "This show is amazing," said Darragh, who is flying back to the States tomorrow. "The mare has gone really well for me this week. She has a big stride so there were a couple of places where I could do one less stride than William, such as coming down to the last where he did seven strides and I did six."
Jodie Hall McAteer took no prisoners in the Mince Pie Stakes by setting a tough target from first draw in the competition for 148cm ponies with Tixylix. The 16-year-old, who was riding in her penultimate pony competition, encouraged all of those who followed her to chase her time, and all paid the price for their risks with poles on the floor. "We know each other so well, I completely trust her," said Jodie. "Even if I miss, Tixylix will still try and jump the fence. If I am able to find a horse like her, I'll be away." And the Nick Skelton story was kept alive when Clare Whitaker presented him with the Ryan's Son Trophy in the main arena, the perfect climax to five days of sell-out show jumping sport.
WELSH SECTION A FOXES THE COMPETITION
Having only been competed under saddle since last year, Uphill James Fox took the Blue Chip Native British Show Pony Society Supreme Championships, the first Welsh section A to do so. The eight-year-old stallion scored a total of 181 marks out of a possible 200, given by four judges – two marking out of 50 for conformation (Mr Price Jones and Mr Stephen Howard), and two marking out of 50 for performance (Mrs Sharon Thomas and Mr Kevin Walker). His rider and producer, Katie Marriott-Payne, was also victorious in this championship in 2003 with Stowbrook Jenny Wren – the first Exmoor Pony to take the title – so this competition was a particular aim. "I set myself a goal of winning this with him," said Katie, who is based in Wellingborough, Northamptonshire. "It's been a dream come true because you can only see how they react to the atmosphere when they get here, it's not something you can recreate."
The Reserve Supreme Champion, the home-produced Highland stallion Benbreac of Croilla, owned by Mrs Mel Stanford and ridden by Matthew Cooper, caused some pre-show stress for his owner as his coat took a bit of preparation. "We've had thermometers under his rug connected to an app on my phone and all sorts," said Mel, who has been hacking him out to keep him fit after the end of the outdoor show season. "It wasn't quite looking right, but all came good about 48 hours ago." Further highlights of the day include The Kennel Club Medium Dog Agility Finals, Sian Illingworth and her partner AG CH Arnpriors Made of Honour, were cheered on by the crowd as they took home the victory.
--Ends--