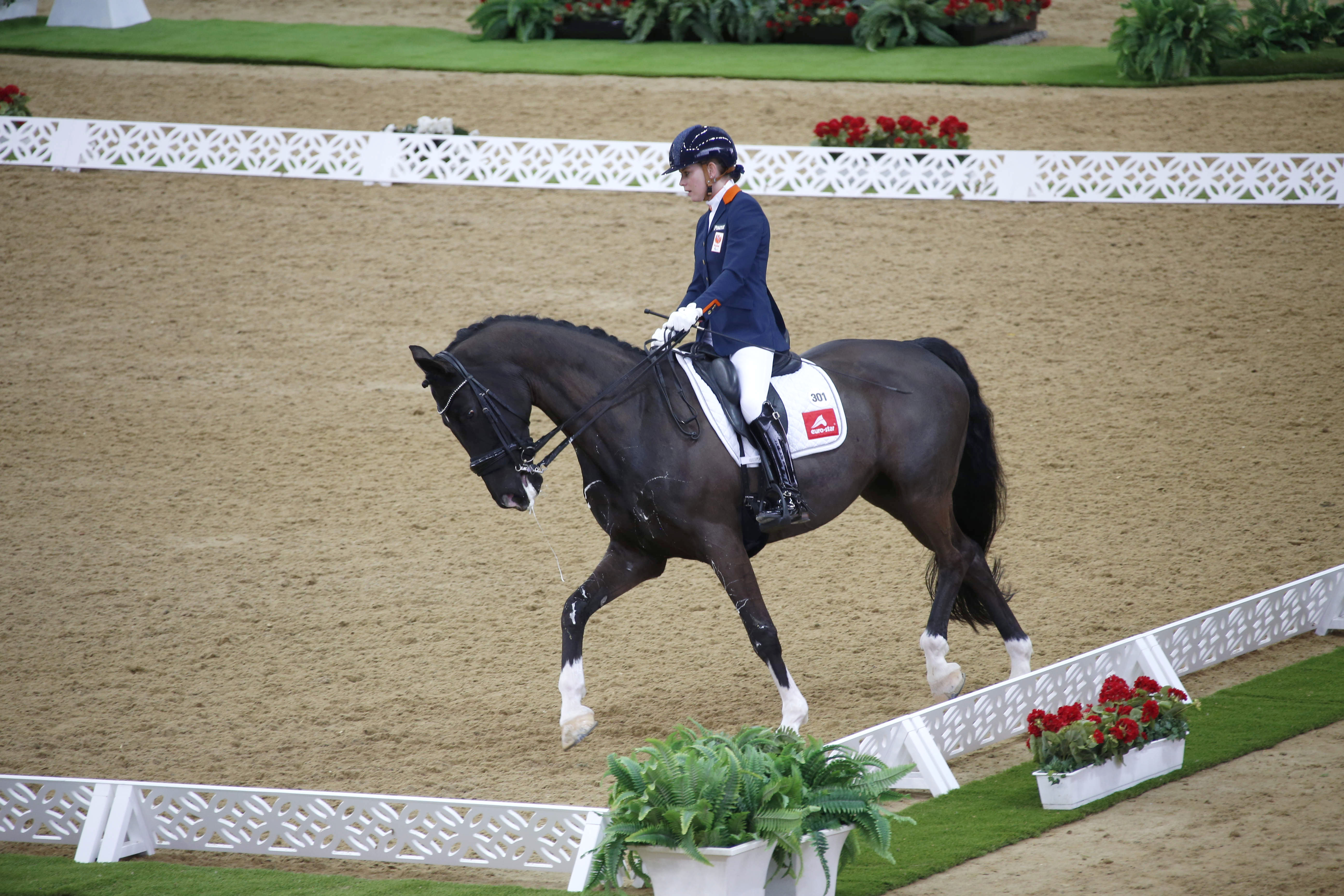 CHI AL SHAQAB 2017, Doha, Qatar
The second day at CHI AL SHAQAB saw five classes of Para Dressage for the Individual Championship Test. 21 international Para Dressage riders performed their test in front of +three world renowned judges.
The day opened with the Grade III championship and it was a win for Dutch champion Rixt van der Horst riding Uniek N.O.P. With her Dutch bred gelding sired by the great Gribaldi, she posted a score of 69.020%. Van der Horst, an Olympic team and individual bronze medallist managed to surpass the score of yesterday's winner Steffen Zeibig who finished on 67.422%.
A jubilant Jens Lasse Dokkan clinched another win on Cypres in the Grade I championship. The Norwegian rider's well presented test which scored 68.095% finished a good margin ahead of Germany's Elke Philipp, who rode the stallion Fuerst Sinclair, to score 68.095% for another second place.
It was another decisive win for Olympic gold medallist Pepo Puch in the Grade II whose score of 76.263 % was the best Para Dressage score of the day.
Speaking after his test, the Austrian rider was excited to have another win to add to his success of yesterday with his Olympic partner Fontainenoir. "It was really good. We enjoy these surroundings in this top quality facilities. It is like a championship and we are so happy to be here together with the showjumpers and the dressage riders. Around good riders, your riding also gets better."
When asked what it was like to be competing and sharing a warm up with world champions in Dressage Puch said "They all respect us. Nobody has spoken about disability, we are all athletes. Even though I am wobbling like hell, we all try to do the best with our horses and that is the idea of the sport. It is not to have excuses, we are all here doing the same- to do the best that we can."
On flying his horse "My horse travelled here well. He is used to flying but he has always been amazing, even after Rio (Olympics) he was not tired- he was only proud of his gold medal."
On his horse "He is a really strong personality. He was a stallion and so he can be really sensitive"
Lee Pearson finished second again on a score of 71.571%. After an error of course, the British rider was disappointed with his performance on his young horse Styletta, a horse he bred himself. . "It was dreadful from a rider's perspective, I forgot the test. It's a new test and I haven't ridden those tests even though I "ride" them every night when I'm in bed, cleaning my teeth, when I am in the car travelling here but I still managed to forget. It's slightly nerves and riding a young horse in such a big environment my mind is everywhere. She's eight years old and she's very hot and opinionated so I'm pleased with her."
Pearson on the venue: "It's unbelievable so if you could lift this and take this anywhere in Great Britain and you could have a national training centre like this, I think our riders could be even more successful than they have been. It's everything- the infrastructure and all these volunteers and workers -they host a great event."
After victory in the team test yesterday, Sanne Voets claimed another Grade IV win. The test was staged in the full length arena for this class. Voets score of 72.561 took a comfortable lead ahead of Poland's Karolina Karwowska who scored 67.154% on the Polish warmblood Emol.
Voets who finished 4th individually in London 2012, was riding Demantur, a Dutch bred nine year old. The 31 year old from Holland has been riding since the age of eight. She was born with a condition that affected her joints and weakened her legs. Her ability was further reduced after a riding accident in 2001.
Dutchman Frank Hosmar was elated with his Individual Grade V title on Alphaville N.O.P. His score of 71.899% went just ahead of Ciska Vermeulen who rode Rohmeo for Belgium to score 70.581%.
Hosmar finished with team and individual bronze in Rio last year and took individual bronze in London 2012 with this horse. He previously competed in able bodied dressage but in 1997 he fell down a flight of stairs and through some glass. He cut the nerves, tendons and muscles in his right arm and was told he would never ride again. With determination and extensive rehabilitation, he regained this ability to ride again, taking up para-dressage in 2009.
The team competition was won by The Netherlands on 431.908% with Germany in second place (415.131%) and Poland taking third (392.809).
--Ends--