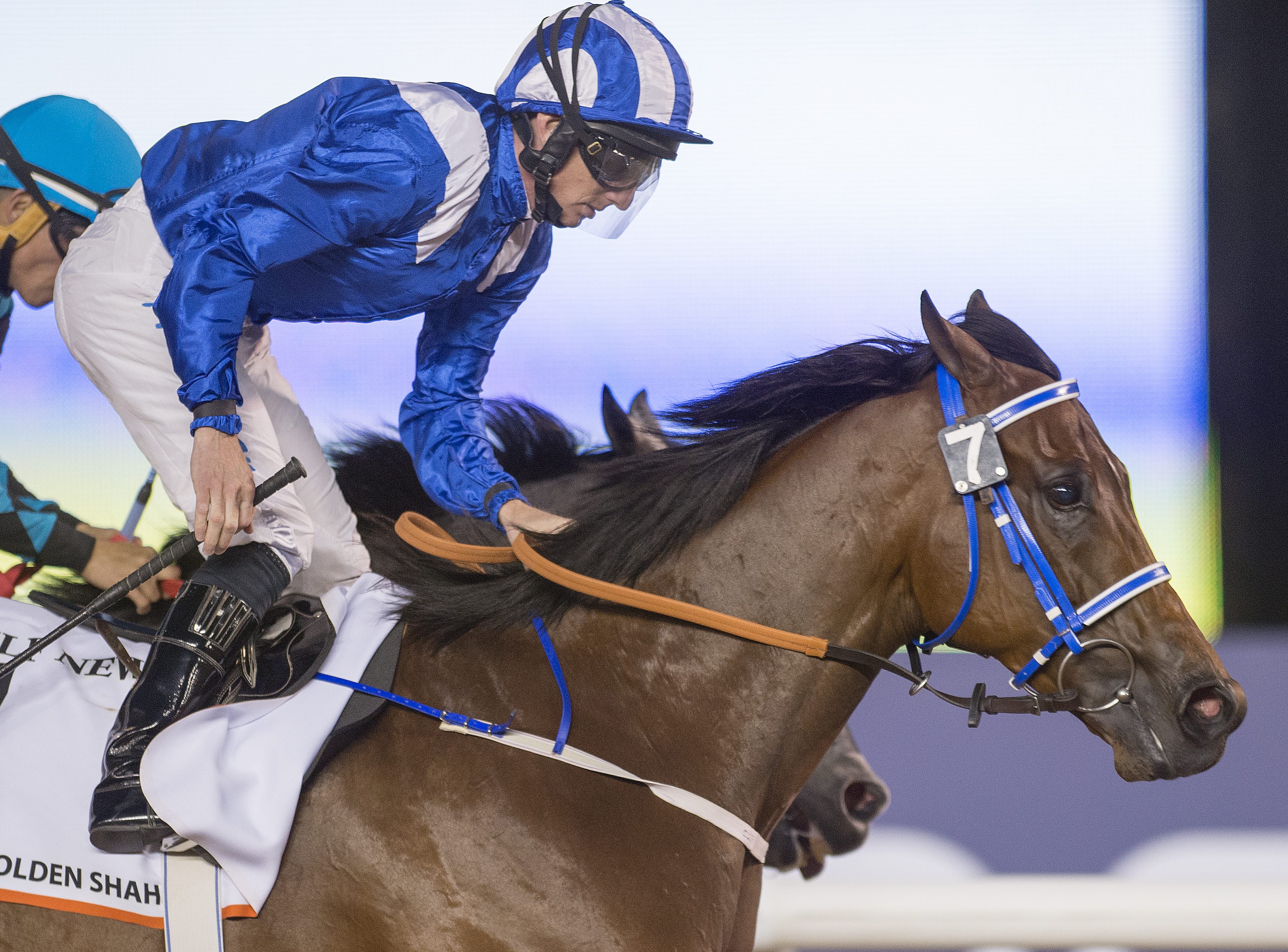 Via DRC
Reynaldothewizard (USA) - Trainer Satish Seemar said: "He always gives his best and has been a great servant to the yard who we expect another big effort from under conditions that really suit him."
Cool Cowboy (USA) and My Catch (IRE) – Trainer Doug Watson said: "The draw is going to be vital, especially to My Catch. He has terrific early speed which we hope he can utilise. Cool Cowboy is a bit more versatile tactically but both are in great shape."
Morawij (GB) – Trainer Dhruba Selvaratnam said: "He arrives having won the Jebel Ali Sprint and on Super Saturday but we know Saturday's race is going to be a lot tougher.
"He ran very well in it from an awful draw last year so, hopefully, we get a bit more luck and a low gate this time."
Muarrab (GB) - Trainer Ali Rashid Al Rayhi said: "He has only been with us just over a fortnight but is settling into his new routine and seems to be improving daily in his new surroundings.
"He won the race last year and has been running well in defeat this season so, with a bit of luck and a good draw, we have to be hopeful."
Dundonnell (USA) – The seven-year-old gelding has not visited a winner's circle since April 2015 but has been competitive in Dubai this season, including a recent third in the Group 3 Mahab Al Shimaal Sponsored by Emirates Skywards. This morning he cantered twice around the main dirt track.
"I just arrived this morning and saw him in the quarantine," said Hong Kong-based trainer Caspar Fownes. "He looks alright and we'll see how he looks in the morning."
Trackrider Paul Lo said: "I have been with him since he arrived in Dubai and he has finished second and then third on Super Saturday. His preparation since has been fine, no problems and he is healthy. He will do his final gallop later in the week."
Mind Your Biscuits (USA) - Was noticeably calm and collected on Monday morning in Dubai, leaving the World Cup quarantine barn at approximately 4.40 am and proceeding to the Meydan dirt course at 5am with trainer Chad Summers. The chestnut Grade 1-winning son of Posse galloped 2400m and schooled in the paddock, with Summers manning the lead during the latter.
"He shipped well and is very good right now," Summers said. "I couldn't be happier. I wish the race was tomorrow and I feel very confident. Tomorrow he will have a blowout down the lane."
A consistent sort, the 4-year-old winner of four races from 14 starts has finished in the top three in 12 of his races, including an adjudged runner-up effort in the Grade 1 Breeders' Cup Sprint on November 5.
Mind Your Biscuits (USA) earned his lone Grade 1 when annexing the Malibu Stakes over 1400m at Santa Anita two efforts back on December 26.
Dios Corrida (JPN) – Had a light maintenance work over the quarantine barn's trotting track on Monday morning. Assistant trainer Yoshinori Unoki said: "We cantered him on the quarantine's trotting track today. He is in much better form physically than he was last time out. He'll breeze on Wednesday."
Wild Dude (USA) - Knows his way around the Meydan training track, having been on the premises for four outings since his purchase from the USA to run in South Korea last September, where the deep dirt surface proved against him.
Ridden by his regular work rider Jamie Heavey for trainer Michael Halford, he was the first of the 7am European workers on the main track and completed a steady, one-circuit canter.
Notlistenin'tome (AUS) - Remained in trotting ring in quarantine area on Monday. Trainer John Moore, speaking from Hong Kong said: "I understand he has travelled well. George (Moore, son) will oversee things until I get there later in the week. The plan is that he will have a jump out from the gates on the dirt on Thursday."
St. Joe Bay (USA) - Seeking his fourth consecutive victory, he trotted once around the main track just after 5am in preparation for Saturday.
Exercise rider Jesse Sauder, who was aboard, said: "He felt great. He's a very calm, collected, professional horse. He's a fun horse to ride. He's actually like a big teddy bear."
Imperial Hint (USA) — Participation was in jeopardy on Monday afternoon as the four-year-old colt arrived in Dubai on March 16 with a fever.
"We have to make a decision soon, but his bloodwork has to be normal in order to run," said trainer Luis Carvajal Jr. Imperial Hint has been walking in the quarantine barn area, but if he improves and gets a good veterinary report, he could train on the Meydan dirt track on Tuesday morning.