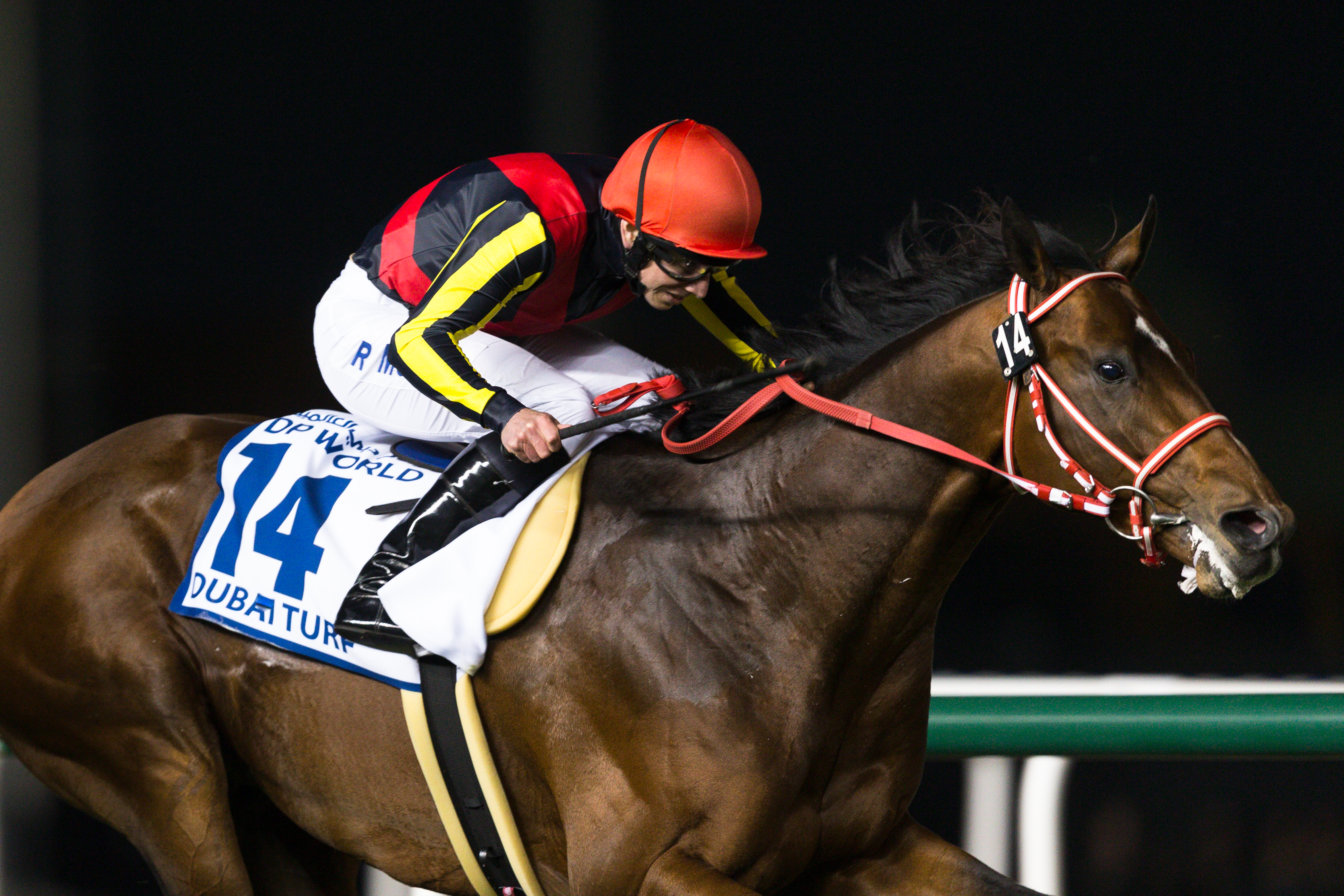 Group 1 US$6m Dubai Turf sponsored by DP World – 1800m (Turf)
Opal Tiara (IRE) - Lesley White, trainer Mick Channon's long-serving travelling head groom, was in the saddle for a visit to the main track. She said: "It was just a standard Monday morning canter to get the freshness out. We went just about 1600m."
Zarak (FR) - The Alain de Royer Dupré trained Zarak, who won the Group 3 Dubai Millennium Stakes sponsored by Wheels at Meydan in February, came onto the main track at Meydan on Monday morning. He was accompanied by his stable companion Vazirabad (FR).
Antoine Creton, travelling head lad for the yard, said: "Our two horses went onto the track and just went for a slow canter. Zarak worked last Tuesday on the grass at the Meydan training track and will now be just doing routine canters until the race."
Heshem (IRE) - Came onto the main Meydan track on Monday morning, together with fellow French raiders Handassa (FR), Finsbury Square (FR) and The Right Man (FR). Christophe Ferland's charge did a slow canter once round the track and his exercise rider Enzo Corallo said: "We arrived last week and so we just did a slow canter, as the horses are still acclimatising."
Ribchester (IRE) - Bids to become the first Godolphin-owned winner at the meeting from outside the operation's retained trainers. Was among the 5am workers on the main dirt track at Meydan, completing a routine canter with his regular work rider.
Mondialiste (IRE) - Appeared in public for the first time since arriving in Dubai and merely stretched his legs with a very steady canter on the turf training track.
Decorated Knight (GB) - Has been kept ticking over since winning the Group 1 Jebel Hatta on his Meydan debut on Super Saturday. He completed a very steady canter over a circuit and a half of the all-weather training track under his regular work rider.
Debt Collector (NZ) - Remained in quarantine area. Trainer Cliff Brown said: "He travelled OK but it is a bit new to him. He is still quite a young horse. He will canter in the quarantine area tomorrow and go out on the grass on the main track."
Vivlos (JPN) - Assistant Trainer Shinji Yasuda said: "She arrived in good condition. Today we hacked one lap and cantered another. I'll gallop her on Wednesday."
Real Steel (JPN) - Assistant trainer Takahide Ando said: "Since he has done this trip before, he handled it very well. We are pleased with his current condition. Today he cantered just one lap, just to stretch him out before schooling with a pony. He will gallop on Wednesday on turf."
-----Ends