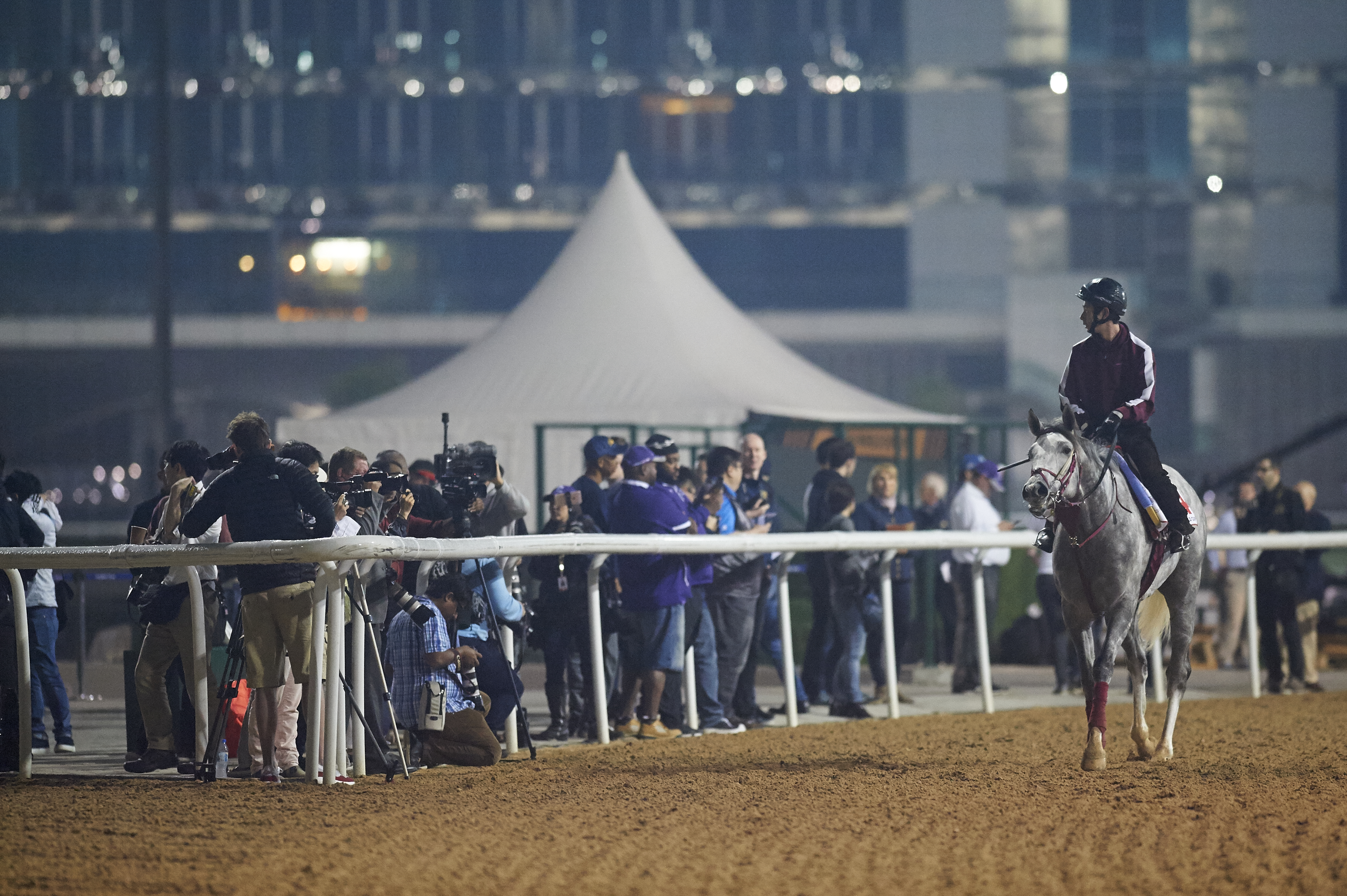 Via DWC
Group 1 US$10m Dubai World Cup sponsored by Emirates Airline – 2000m (Dirt)
Special Fighter (IRE) - Fernando Jara, jockey, said: "We are very happy with the horse, how he ran on his comeback and the progress he has made since then. However, from the wide draw it is going to be difficult and we will need some luck.
Maria Ritchie, trainer, added: "The wide draw is not what we wanted so it is over to the jockey now but we have a lot of faith in Fernando, who will certainly not panic. Hopefully he is not forced to race wide throughout."
Furia Cruzada (CHI) - Erwan Charpy, trainer, said: "She has drawn OK, is in good form and will run well in a very strong race."
Mubtaahij (IRE) - Christophe Soumillon, jockey, said: "The good news is the horse has improved a lot from his comeback run and seems in very good form.
"The bad news is the draw, which is going to make it very difficult to get the position I would have liked. We will have to see how the race develops in the early stages and plan accordingly."
Gun Runner (USA) — Schooled at the gate at 5.15am. He then galloped a mile and a quarter around the dirt track before heading back to the quarantine barn.
Ron Winchell, principal of majority owner Winchell Thoroughbreds, said: "He is doing absolutely fantastic and everyone is very happy with where we're at.
"He's been very consistent and we always thought that when he ran as a 3-year-old early on that he would get better and better. Unfortunately, we were hoping that would mean a Kentucky Derby win, but he would up running a good third in that, so you can't complain too much. It seems as he gets older he's getting better.
"It seems to work out that he's that horse who comes out of races in very good shape and tells you to do more."
Clearly he's bigger and strong and more of a filled-out racehorse than he was last year. He hasn't been tested in his last couple of races, but we'll see here and we'll see about the 2000m. The distance is always a worry in the back of your mind when they haven't won yet at it, but there's nothing that tells us that as a stronger and better horse that he shouldn't be able to get it."
Long River (USA) - Salem bin Ghadayer, trainer, said: "He was drawn two on Super Saturday when he won so we have to be delighted to get the same draw and we think he is going to run another big race in this stronger contest."
Apollo Kentucky (USA) - Cantered a lap and a half around the dirt course, showing a little speed as they went down the stretch.
Assistant trainer Jun Tomioka said: "He worked well. He seems to be loosening up nicely. We will talk to the trainer this afternoon and decide what kind of training we will do tomorrow."
Gold Dream (JPN) - Walked for an hour around the quarantine area this morning. Trainer Osamu Hirata said: "We will take him for a light gallop. He is in fantastic condition. We couldn't be happier with how he is coming along."
Lani (USA) and Awardee (USA) - Worked together on the main track. Lani cantered for two laps, while Awardee cantered for one lap. They schooled at the starting gate.
Mikio Matsunaga, trainer of the two horses, said: "Both horses moved flexibly today. They were handling everything really well. I do not have any concern about their condition so far."
Arrogate (USA) - Returning to the dirt track for the first time since Monday, when he breezed about 800m. He was greeted shortly after 5am by trainer Bob Baffert prior to a brief visit to the starting gate.
Entering the gate for his second schooling session with starter Shane Ryan's team since arriving in Dubai, he stood quietly and then backed out before beginning a one-lap easy gallop under exercise rider Dana Barnes.
"He looks good," Baffert said. "We've got to stay focussed now. Until he gets in the gate and gets the job done in the race, I'm going to be a nervous wreck."
Garrett O'Rourke, manager of Juddmonte's American operations, was on hand.
"Everything seems well with him. He seems to be pushing all the right buttons and enjoying his celebrity status," O'Rourke said. "He had a nice, easy swagger this morning."
Hoppertunity (USA) - Trainer Bob Baffert continues to report that last year's third-placer seems to be coming into this year's renewal in the best condition of his life.
The six-year-old followed the same routine Baffert assigned for Arrogate on Thursday morning, visiting the starting gate for a brief schooling session under exercise rider Dana Barnes before taking a tour of Meydan at an easy gallop shortly after 7am.
"He's just doing great," Baffert said, referring to Hoppertunity as his "exacta horse," meaning that he is hoping for a 1-2 finish between Arrogate and Hoppertunity in the 14-horse field.
"Both horses have shipped well over here and there haven't been any hiccups," Baffert said. "Now we're just playing the waiting game."
Keen Ice (USA)—Exercise rider Nick Bush could not have been more delighted with Keen Ice's easy gallop at Meydan on Thursday morning.
Ginny DePasquale, assistant to trainer Todd Pletcher, reported that Bush rode off the track saying: "He's just great, he's wonderful, he's beautiful, he's perfect." Keen Ice galloped "very kindly" for Bush, DePasquale said, and added: "We're very pleased with how he is doing."
Neolithic (USA)—Continuing to train with enthusiasm, galloping during the 7am time slot.
"He's striding out very well," said assistant trainer Ginny DePasquale, who reported that all three of trainer Todd Pletcher's horses for the Dubai World Cup programme seem to be adjusting very well to Dubai.
"To me, they're kind of looking a little better every day," DePasquale said. "They're happy going up there to the track to train and they're happy coming back. They seem to be enjoying their little vacation here in Dubai, and there have been no glitches."
Group 1 US$6m Dubai Turf sponsored by DP World, 1800m (Turf)
Mutakayyef (GB) – British champion jockey Jim Crowley was aboard the six-year-old on the main track just after 7am.
Crowley said: "He jumped and went six furlongs and breezed the last two. He felt great and is in really good shape.
"We took him out early under the lights yesterday to give him that experience and he took it all really well. He missed his prep with a small setback but that shouldn't make much difference – he is very fit and has had a couple of racecourse gallops."
Opal Tiara - Mick Channon's filly covered a lap of the main track under regular work rider Lesley White a little after 5am.
Zarak (FR) - Georges Rimaud, manager of the French studs for owner HH the Aga Khan, was at the track to see Zarak go for a canter on the main track. He said: "Yesterday he worked on the grass track and he worked well. This morning he just did a canter. We are happy with him."
Heshem (IRE) - Went to the grass training track. His trainer Christophe Ferland said: "We just worked him over a short distance on the grass. He worked over 1200m, just to open his lungs. He went on his own and is in good form. I'm happy with him. He will go back to the main track tomorrow morning."
Vivros (JPN) - Stayed at the quarantine stables and walked for an hour.
Trainer Yasuo Tomomichi said: "She has a good appetite and looks well in her condition."
Debt Collector (NZ) - Trainer Cliff Brown said: "He worked well yesterday and I was very happy. The idea was that we would take it easy today. He will stretch his legs tomorrow a bit. He's in good shape."
Ribchester (IRE) - Put in his latest 5am shift for work rider Matt Ennis, taking another steady canter over a circuit of Meydan's main dirt track.
The Godolphin-owned winner of last year's Jersey Stakes and Group 1 Prix Jacques le Marois has not been overstretched since arriving in Dubai.
Trainer Richard Fahey explained: "He's done well over the winter and arrived fit, so we don't need to do a lot here. We took him to Lingfield Park three weeks ago and stayed overnight to get him used to going racing again. Paul Hanagan rode him there and it seemed to have the desired effect."
Mondialiste (IRE) - Given a break from the routine of previous mornings, being switched from the training track to Meydan's main dirt circuit. Regular partner Danny Tudhope flew in after riding at Southwell on Tuesday and took Mondialiste on a lap of the inner track.
Trainer David O'Meara reported: "It was a steady piece of work, although he quickened up over the last 400m, just to blow away the cobwebs."
Discussing the decision to bring the Yorkshire-trained, seven-year-old winner of last year's Arlington Million back to a shorter distance, after finishing last of 12 over 2400m in the Breeders' Cup Turf, O'Meara said:
"The Arlington race was a 'win and you're in' for the Breeder's Cup and he was probably over-travelled when he got to Santa Anita. His pedigree suggested he might stay 2400m, but now we think he will always be best at 1600m to 2000m."
Decorated Knight (GB) - Was back on the all-weather training track after a Wednesday breeze along the turf gallop by the side of the main Meydan circuit. He completed a steady 1400m canter.
Trainer Roger Charlton reported: "He's doing everything nicely and we're as pleased as we can be."
Both Decorated Knight and Charlton will be defending unbeaten records on Saturday. The five-year-old son of Galileo won the Group 1 Jebel Hatta on his Meydan debut on Super Saturday, while Charlton took the equivalent to this race in 2012 with Cityscape, his only previous runner on the Dubai World Cup programme. "The Jebel Hatta was his winter target and he probably has to find a few lengths in the Turf, but he goes there in good form."
Deauville (IRE) - Took third spot behind Highland Reel (IRE) in the line-up of nine Aidan O'Brien-trained challengers who appeared in public for the first time since arriving early on Tuesday morning.
Cougar Mountain (IRE) - Followed immediately in the hoofprints of Highland Reel (IRE), as the Aidan O'Brien team took the track for the first time since leaving the confines of the quarantine barn. Campaigned in the US and Hong Kong at the end of 2016, he comes into Saturday's race on the back of an unlucky-in-running second place over 1600m in Qatar.
Long Island Sound (USA) - Last of Aidan O'Brien's biggest-ever team at the Dubai World Cup meeting to be accepted by the organising committee, occupied sixth place in the line behind Highland Reel as the squad had their first experience of the Meydan track.
Group 1 US$6m Longines Dubai Sheema Classic, 2410m (Turf)
Postponed (IRE) – The current title holder was switched to the main track this morning and hit the turf a little after 5am.
"We cantered and then quickened down the home straight," said jockey Andrea Atzeni. "I couldn't have been more pleased with the way he felt and he has really improved over the last two weeks. It is surprising just how much he has come on and he is feeling and looking so well. He is ready now and will just have a trot on the training track tomorrow."
Jack Hobbs (GB) – Worked on the grass track around 5.15 am under big-race pilot William Buick.
"We just cantered but he felt great," said Buick. " He's wearing blinkers for the first time which should help.
"It's a tough race but if things work out for him he should be considered.
You have to respect the whole field, Highland Reel will be very dangerous and Postponed as well. It's a huge race. The ground wouldn't be a big concern, whatever it is."
Sounds Of Earth (JPN) - Trainer Kenichi Fujioka rode him on the way from the quarantine stables to the main track and looked at how he moved before the exercise rider gave him an easy canter on dirt.
Fujioka said: "This morning, he didn't show as much stiffness as he usually does after the breeze day. When he was second in the Japan Cup last year, he was 100 per cent fit and he was almost in the same form this time."
Highland Reel (IRE) and Seventh Heaven (IRE) - Book-ended the biggest team of horses from Aidan O'Brien's stable to tackle the Dubai World Cup card, when they appeared in public for the first time since arriving in the UAE on Tuesday morning.
The nine-strong squad, partnered by their regular work riders, filed on to the Meydan main dirt track at 7.10am.
The O'Brien ranks were deployed with military precision, walking in single file for a reverse circuit of the main Meydan dirt track, before circling to do the same, but along the racing line, at a gentle canter, keeping any exuberance firmly in check.
With O'Brien confined by snowy conditions at home, Pat Keating, who oversees the stable's travellers, provided the latest team talk.
"Everything's fine and we're very happy with all the horses," he said. "Every one of them is going well. Everybody connected with the event does they're best for us. If we want something, they will provide it, which makes it as smooth as possible."
Group 1 US$2m Dubai Golden Shaheen sponsored by Gulf News, 1200m (Dirt)
Wild Dude (USA) returned to his familiar patch, taking a steady canter round Meydan's main dirt track.
Trainer Michael Halford said: "There's no need to do any more. We just need to keep him fresh as he he's had four races since he arrived here in January."
The seven-year-old was bought from the US last summer specifically to run in an international sprint in South Korea, where was slightly disappointing on a deep dirt surface, and Halford added: "In one sense we are still learning about him, but his work has been good since his last run."
Dios Corrida (JPN) - Walked for an hour in the quarantine area this morning. Assistant trainer Yoshinori Unoki said: "He galloped very well yesterday so we didn't want to over work him. He'll be cantered tomorrow."
Stallwalkin Dude (USA) - Went through the his final major piece of track work. Howard Jacobson, assistant trainer to father and co-owner David, was on hand to watch the son of City Place blow out 600m, with a pick-up down the lane in 38 seconds. "I very happy with it. He was biting down and wanted to do more, which is what we wanted to see. He really came home and did it all within himself. He's a professional," said Jacobson jnr.
Mind Your Biscuits (USA) — Made it to the main track at 5.10am. The Chad Summers-trained son of Posse jogged two easy circuits before promptly heading back to the quarantine barn. At Wednesday's post-position draw, he drew the outside stall 14.
"The horse shipped really well and he's taking everything in stride," Summers said. "The outside post is what it is. You can't change it and there are horses with much worse post positions in relation to their running styles than ours.
"I think that on paper the race sets up well for us otherwise and we're not going to change our running style. We can be tactical enough but he is a little better making one sustained run from farther behind and he should like the longer straight here. He's shown us every sign that he's sitting on his lifetime best race and I think his lifetime best wins this by three lengths.
"We have a lot of faith in Joel Rosario," he continued. "He knows this track and won the Dubai World Cup here on Animal Kingdom. He works this horse, knows him well and has a lot of confidence in the horse."
Dundonnell (USA) – Caspar Fownes, trainer, said: "He had a (2400m) canter up on the main track and everything's good. His last two starts here were nice – a second and a third – so another sort of race like that on the big night would be nice.
"I'm happy with the draw, I wanted four, I said that yesterday, and I got it. He's obviously just a little bit off them, class-wise, but he's toughened up and I think if things go right and he gets in a good spot, he'll make his own luck, he'll run well."
Reynaldothewizard (USA) - Richard Mullen, jockey, said: "He is acting more like a two-year-old than an 11-year-old and is in fine form. Satish Seemar and the team have really looked after him and he has not had much racing which has helped him keep going so strongly. He should be running on strongly on Saturday."
Cool Cowboy (USA) and My Catch (IRE) - Doug Watson, trainer, said: "Cool Cowboy has drawn well but My Catch, not so. Both are in good form though so, with a bit of luck, can hopefully be competitive."
Morawij (GB) - Chris Hayes, jockey, said: "The low draw is ideal and increases his chances dramatically; he proved on Super Saturday he can mix it with these horses and, remember, he was third in this last year from an awful draw."
Muarrab (GB) - Jim Crowley, jockey, said: "We cannot complain about the draw in six and, hopefully, we can get a good break and early position. If so, he should be very competitive."
St Joe Bay (USA) - Seeking a fourth consecutive victory for his trainee, trainer Peter Miller kept the routine conservative on Thursday morning.
"We just gave him an easy day," said Miller. "He blew out yesterday. We will probably just jog him tomorrow on the small track in the quarantine area."
Notlistenin'tome (AUS) - Worked on the dirt track. Jockey Tommy Berry said: "It was quite nice work. He got through the track really well. It's very deep, you can feel him working on the surface and not just flying over it. But I was very pleased with him, he's a happy horse and he went through his paces very well."
Trainer John Moore added: "We'll have to look at the race, see what speed is underneath us to contend with from gate 10, and see whether he has enough early speed to get across and get up handy, two or three off the fence. The biggest gamble is whether or not he will handle the surface at racing speed."
Group 1 US$1m Al Quoz Sprint sponsored by Azizi Developments, 1200m (Turf)
Limato (IRE) – Jockey Harry Bentley partnered Henry Candy's July Cup winner on the training track.
"We went five furlongs and then quickened for the final two furlongs for a breeze," said Bentley. "It wasn't much but just enough to sharpen him up. He felt really good and is ready for Saturday now – and I can't wait to ride him."
Final Venture (GB) – Trainer Paul Midgley kept the five-year-old low key this morning, and said: "He doesn't need to do anything as he is fit and ready to race."
Medicean Man (GB), whose attempted trip to Meydan's main turf track on Tuesday was scuppered when the circuit was closed because of heavy rain, was back on the dirt training track for a canter under regular work rider Neil Walsh that represented a move through at least one gear.
Trainer Jeremy Gask reported: "He did a bit of pace work for a change. It was just maintenance work really, but he went a touch quicker out of the straight than earlier in the week."
Washington DC (IRE) took his place as the eighth and last of the colts among Aidan O'Brien's nine challengers, with only the filly Seventh Heaven (IRE) behind, who made their first public appearance since arriving from Ireland early on Tuesday morning. Last seen in action when seventh in the Breeders' Cup Sprint over 1300m, he showed better form in his two previous outings, when runner-up at The Curragh and in the Prix de l'Abbaye over 1000m.
Long On Value (USA) – Riley Mott, assistant trainer, said: "This morning we had a regular (2000m) gallop and that went really well. Then we went and stood in the starting gate and that went really well, too. We're happy and it looks like he's coming into the race a happy horse."
The Right Man (FR) – Owner Geraldine Richshoffer was at the main track to watch her horse canter. She said: "He is very calm and very supple. I think he looks good."
Herself an experienced horsewoman, she is involved in looking after The Right Man's health, personally stretching and massaging him following a race. "This morning he jogged and then went for a short canter," she continued. "He is not a horse that needs to work a lot. And he only ran three weeks ago."
Finsbury Square (FR) - Went for a lung opener on the main track. Trainer Fabrice Chappet confirmed: "As planned, we cantered him a bit faster today. We let him accelerate in the final 200m and he did it well. He has a nice action and I can't complain. If it rains, it can only be a bonus for him, but the track looks great anyway."
Richard's Boy (USA) - Walked in the quarantine area on Thursday morning and trainer Peter Miller had conservative plans.
"He will just jog on the small track in the quarantine area tomorrow," Miller said. "He is fit, happy and doing well."
Amazing Kids (NZ) - Cantered on main dirt track. Trainer John Size said: "There is plenty of speed in the race and from gate one we can find a horse to follow. He is good racing down straight tracks."
Group 2 $US2m UAE Derby sponsored by The Saeed & Mohammed Al Naboodah Group, 1900m (Dirt)
Vettori Kin (BRZ) – The Brazilian Group 1 winner galloped 2400m starting from the 200m marker.
"I wanted him to stretch his legs a little bit down the lane," trainer Kenny McPeek said. "He'll do the same thing tomorrow."
McPeek has brought South American imports before.
"This is a different approach this year," he said. "In the past we've shipped directly from South America to here. This time we came into Florida and trained for two months before coming. The horse has thrived there.
"He was impressive in his only dirt start and he's trained exceptionally well on it. I've been training him against older horses in South Florida and he's held his own against multiple graded stakes winners down there."
Lancaster Bomber (USA) - Was fifth to take his place in the line-up of nine horses from the Aidan O'Brien stable who took all the attention when they appeared on Meydan's main dirt, making their first appearance in public since they flew in from Ireland on Tuesday morning.
An autumn revelation, when runner-up in the Dewhurst Stakes, to stablemate Churchill, and the Breeder's Cup Juvenile Turf, he will tackle dirt and be ridden by Ryan Moore, both for the first time, on Saturday. He has an entry Britain's first colts' Classic, the 2000 Guineas, at Newmarket in early May.
Spirit Of Valor (USA)- Was settled fourth in line behind Highland Reel (IRE) as the nine-strong team assembled by Aidan O'Brien entered the public spotlight for the first time, after observing the routine 48-hour quarantine period following their flight from Ireland. The War Front colt has the lightest racing record of the group, with a win and two placings from his three outings as a two-year-old.
Master Plan (USA) - Returned to the main track before dawn, galloping under the floodlights.
"I thought he looked better today than he did yesterday - I was really pleased," said Ginny DePasquale, assistant to trainer Todd Pletcher.
Master Plan, a son of Twirling Candy joined his Pletcher stablemates during an evening schooling session earlier this week in the saddling paddock and parade ring.
"They were all on their best behaviour," DePasquale said of the schooling session, which essentially duplicated the lengthy race-night process of transporting the horses from their barn in the quarantine area to a racetrack receiving area prior to a walk through a long tunnel to the saddling paddock and then a brief stroll to the parade ring.
Epicharis (JPN) - Walked for 40 minutes in the quarantine area. Trainer Kiyoshi Hagiwara said: "We will canter him tomorrow. He is in good form."
Adirato( JPN) - Walked him around the quarantine barn. Trainer Naosuke Sugai said: "He is doing great. He just settled right into Dubai, it is really amazing. He is turned on and ready to go. We actually really love having the far outside gate. It fits the horse perfectly. It is the best position we could have hoped for."
He Runs Away (ARG) - Came out onto the main track on Thursday morning and went for a strong canter once round the track.
His trainer Ricardo Colombo said: "I thought about it last night, should we give him a canter or just let him tick over and in the end decided to let him go a bit faster. So he came onto the track and did a strong canter from the end of the backstretch to finish in front of the stands. Tomorrow he will just trot a bit and then he is ready for the race. I think a strong pace in the race would suit him."
Qatar Man (IRE) – Had a spin around the track at 5.15am under trainer Marco Botti's wife and assistant Lucie.
"We just cantered around and I was happy. The horse was quite fresh and he's ready to go. We'll do the same tomorrow and look forward to Saturday."
Group 2 US$1m Godolphin Mile sponsored by Meydan Sobha, 1600m (Dirt)
Gifted Master (IRE) – Once again Hugo Palmer had his four-year-old out before sunrise on the main track.
"He has been here a while and has been training on dirt since we decided to go for the Godolphin Mile," said Palmer.
"He seems to handle the surface well and I was delighted with the way he went this morning. He has a pedigree that suggests dirt will be fine for him and he is very settled here."
Sharp Azteca (USA) – Jorge Navarro, trainer, said: "He just had an easy gallop. It went really good and I was happy with it. He went by the media and he heard the clicking of the cameras and he wanted to take off. I was worried when I saw that but Anthony (Cruz, exercise rider) was able to get a hold of him. He just wants to do something because he's ready."
Ross (IRE) - Trainer Peter Schiergen arrived on Thursday morning to watch Ross canter once round the track. He said: "Today Ross was a bit hyper, but that was because of all the activities at the track.
"Patrick (Gibson, work rider) told me he has been doing well and he gives me a good impression. He has done all his work and is just doing a canter between now and the race. He is coming out of stall one, which is not ideal, but much better than being completely on the outside."
Kafuji Take (JPN) - Walked one hour in quarantine stables. Assistant trainer Hirofumi Yamamoto said: "He is in really good condition. Right where he needs to be. We will canter him tomorrow. Regarding the draw, we wanted an outside post so we are very happy."
Triple Nine (KOR) - Arrived at the main track just after 7am. He cantered 2000m as the exercise rider positioned the horse down along the rail.
Group 2 US$1m Dubai Gold Cup sponsored by Al Tayer Motors, 3200m (Turf)
Big Orange (GB) - Cantered on the training track under exercise rider Jill Dolman. "It was just a long hack canter, nice and easy," said trainer Michael Bell.
Dolman made her part in the exercise look easy, under the circumstances. "I have a broken finger," she said. "It's ok, until he takes a big hold."
Big Orange (GB) is capable of doing so with his extremely long frame. "He can only just fit in the stalls on race night," said Bell. "He's always loaded with a blindfold and he will again on Saturday."
Trip To Paris (IRE) – Trainer Ed Dunlop arrived into Dubai and headed to the training track to watch the 2015 Ascot Gold Cup winner cover a lap of the training track.
"I have only got in this morning and this is the first I have seen of him and I couldn't be happier," said Dunlop. "Robin (Trevor-Jones) has done a great job of looking after him and the horse is moving well. He has been doing steady work but cantered this morning to put him right for Saturday and he looks really well."
Quest For More (IRE) joined stablemate Decorated Knight with a 1400m canter on the dirt training track, following Wednesday's outing to the main Meydan turf gallops.
Trainer Roger Charlton said: "It was routine work, nothing special, and he's in good form. He's on his racing weight and I'm very happy with him."
Charlton, who uses various technical aids to monitor his string, added: "He has a very big heart, which probably explains why he keeps galloping. He loves racing over 3200m-plus, and he would probably be happy to go 4800m."
Kingfisher (IRE), one of the 'darker' horses among Aidan O'Brien's nine-strong party, given his 17-month absence from action, came seventh in line behind Highland Reel (IRE) when the team emerged for the first time since arriving early on Tuesday morning.
Connections were keen to take up the engagement for the six-year-old, who ran second to Saturday's rival trip To Paris in the Gold Cup at Royal Ascot in 2015 but has not raced since a disappointing run in the Melbourne Cup in November the following year.
Wall Of Fire (IRE) – William Buick got the leg up aboard the horse he rode to victory at York last summer when the pair appeared on the main turf track at 7.15am.
"William was very happy with him and that's him set for the weekend," said trainer Hugo Palmer. "His weight allowance will help him and he does looks progressive. William knows him and his idiosyncrasies and knows what to do."
Vazirabad (FR) - As usual, followed his lead horse onto the main track. Georges Rimaud, manager of the French studs for owner HH the Aga Khan, said: "Just like Zarak, Vazirabad did an individual gallop on the grass yesterday and everything is good. We are happy with the draw for both of our horses."
Heartbreak City (FR) - Cantered in the training area. Trainer Tony Martin said: "I was with him this morning and I was very happy. The preparation has gone well. He has mostly been at the training track so I will let him have a look at the main track on Friday."
Sheikhzayedroad (GB) - Cantered on the training track. Trainer David Simcock said: "He trains himself at this stage. All good with him, no problems and we are looking forward to the race."
Quechua (ARG) - Trainer Ricardo Le Grange said: "He worked nicely yesterday in the training area. He is ready. He can pick up some prize-money because stepping up to the 3200m will suit him."
Group 1 (Purebred Arabians) US$1m Dubai Kahayla Classic empowered by IPIC, 2000m (Dirt)
Handassa (FR) - François Rohaut arrived on Thursday morning to watch Handassa come out onto the main track. He said: "All the prep work is done now. He worked on Tuesday on the grass training track, so yesterday he only did one round of a jog and today, he cantered slowly twice round the track.
"The horse is well, he has lost a lot of weight since he arrived in January when he was simply fat. So, now all we have to hope is that he comes out of the stalls alright."
TM Thunder Struck (US) - Enjoyed a solitary spin around the main track. Ridden by Eric Ventrou, assistant trainer to Alban de Mieulle, he first jogged and then cantered.
His rider said: "This morning we cantered and then quickened over the last 400m. Alban de Mieulle had asked me to let him just quicken a bit. He responded well and everything is fine. I don't know how the track will be if it rains, but I think it will be fine."