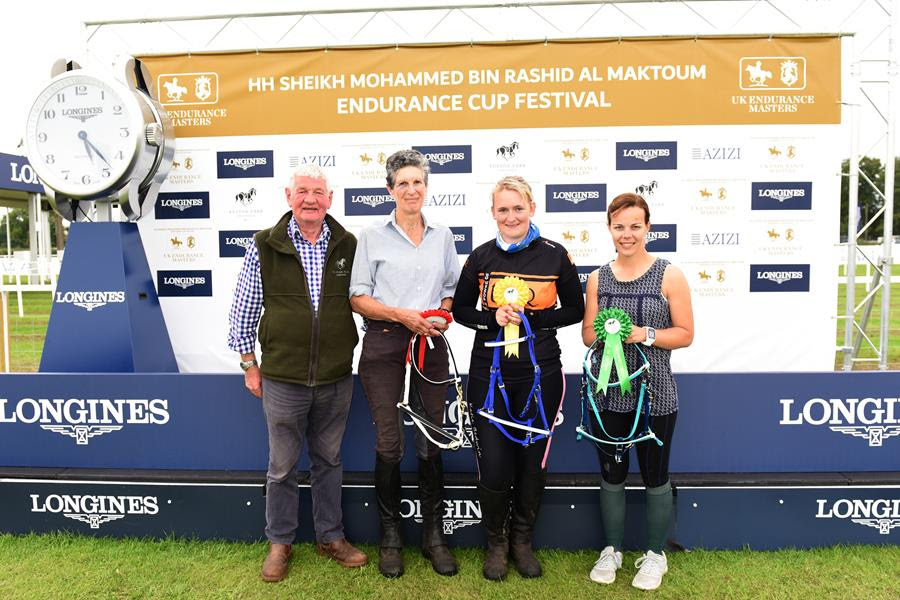 Via Dubai Equestrian Club
A field of 110 riders set off in the various national ride classes on day two of the HH Sheikh Mohammed Bin Rashid Al Maktoum Endurance Cup Festival UK Endurance Masters at Euston Park on Sunday, bringing the total number of starters over the weekend to an impressive 466 from 32 nations.
There were six Graded Endurance Rides (GERs) 80km, 64km, 40km, 32km (all Open/Advanced) 40km and 32 km (Novice/ &PC Osprey) and three pleasure rides of 32km, 20km, and 16km. The 80km ride took in three loops and two holds, the 64km ride had two loops and one hold and all other classes were one loop.
The majority of the 110 starters were British, although Norway, Hong Kong and the UAE were also represented.
Conditions all day were pretty much perfect, dry, not too hot and breezy and the course rode really well. There were many lovely stories which emerged throughout the day, with competitors including a Suffolk Punch, a racehorse that came third at Newbury on the 30th of July and an eight year old girl who completed the 40km on a12.2 pony.
Rebecca Parsler from Milton Keynes riding Shadow Fax (32km Novice): "To come to a big venue for his first time, it was exciting for him but he has been really good and all the free ice was very helpful."
Hannah Mascal from Tring riding Xclusive AM (32km Novice): "I brought my youngster Xclusive AM. It's a picturesque venue, its nice, flat and open. Everyone is really helpful."
Abbey Gant from Hampshireriding Bertie IV (40km GER Novice): "It has been absolutely beautiful to ride here really the markings are lovely on a beautiful route."
Anna Bollingdon from Hampshire:"Today has been lovely, the grounds are beautiful and green. It is a really fun ride."
Nick Brooks-Ward, Endurance Director at HPower Group Endurance, said: "This weekend has been about showcasing endurance at every level and Euston Park has provided the perfect stage. It was fabulous to see the national riders sharing these marvelous facilities and out enjoying the super courses that we are blessed with here. It can't help but promote the sport from the grass roots up and we are so excited about what the future holds. Thank you to Endurance Great Britain for endorsing this pioneering event."