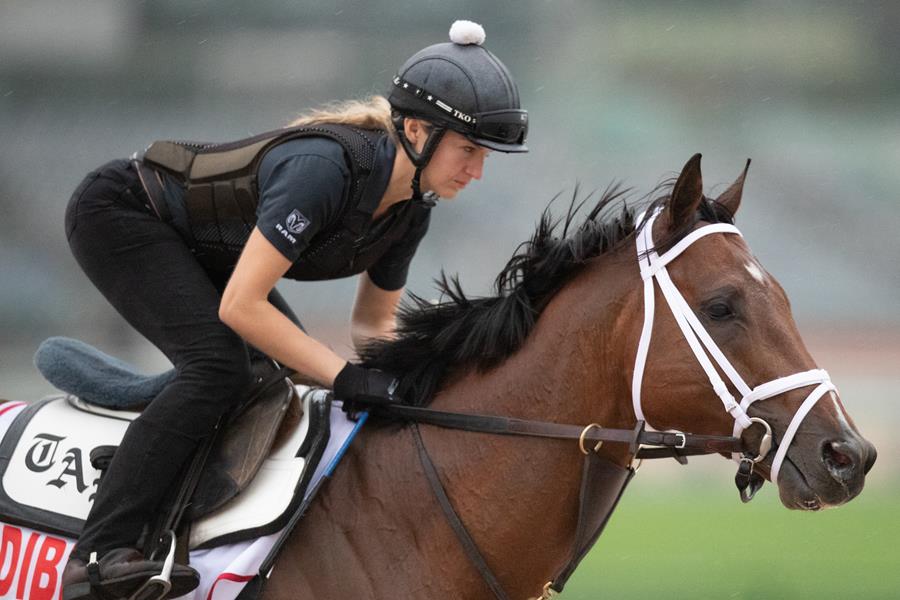 DUBAI WORLD CUP 2019 :TRACK NOTES THURSDAY 28TH
Via DRC
AUDIBLE
Co-owners Jack Wolf of Starlight Racing and Elliott Walden of WinStar Farm were on scene at Meydan to lay eyes on the son of Into Mischief as he prepares for his start in the $12 million Dubai World Cup sponsored by Emirates Airline (G1). Under exercise rider Amelia Green, Audible came to the track in his usual time slot, shortly after 7:00 a.m., to gallop twice around. Conditions were damp and although he handled the wet well enough when finishing 3rd in last year's Kentucky Derby (G1), he did not relish similar going last time out when fifth in the Pegasus World Cup Invitational Stakes (G1) at Gulfstream Park on January 26.
With the ranks wide open back in America, however, there is opening for Audible to launch himself to the top of the division if he can make amends for his most recent run on Saturday evening.
"He has trained better in the mornings as a 4-year-old than he did as a 3-year-old, so that's kind of an odd turn of events," Walden said. "He's not a horse who is going to really grab you in the morning and pull as hard as he can. He's just a cool customer. That's still the same.
"City of Light was going to win (the Pegasus), but (Audible) didn't get beat too far for the rest of it. A couple of these horses (in the Dubai World Cup) were in there so we've got to turn the tables on them. It will be a good opportunity."
DOLKONG
South Korean hope Dolkong performed a regulation canter on the dirt on Thursday morning under his work rider Lizzie Stubbington.
"What we can control has gone as well as we could have hoped," said trainer Simon Foster. "It's not ideal by any means that he drew widest of 13 in the Dubai World Cup, but that's the way it goes. He was never going to be up on the pace, but it does make the task harder, no doubt."
Gunnevera
The star of Antonio Sano's Florida stable was back out on the dirt track again on Thursday morning and the trainer's son Alex continues to be delighted with his progress.
"This morning he went half a lap the opposite way of jogging and then went a lap and a half of galloping," he said. "It was very good, my father was happy with the work of the horse and we're happy with the post position. We think number 1 is going to help him a lot, those in 2 and 3 are speed horses and are going to be going for the lead, and we are going to be saving ground on the inside."
K T BRAVE
K T Brave schooled today in the paddock ahead of the Dubai World Cup.
"He walked to the paddock today to acquaint himself with all of the new places here in Dubai. He was very relaxed and has come out of his workout yesterday in good condition," trainer Haruki Sugiyama said. "Last year's winner broke wide last year with no problem, so I hope it will happen again this year."
NEW TRAILS
For trainer Ahmad bin Harmash and jockey Connor Beasley, New Trails will be living up to his name when he contests the Dubai World Cup sponsored by Emirates Airline (G1). Neither has previously figured in the world's richest race and they come to it having already registered their best seasons in the UAE.
Both described the experience as "a dream come true" after the lightly-raced 5-year-old, who started his career in the Godolphin colours with master trainer Andre Fabre in France, continued his preparation in steady fashion at Bin Harmash's well-appointed desert stable on Thursday.
Bin Harmash expressed himself happy to take the nine stall at Wednesday's draw for post positions.
"I was hoping for six or seven, but they had gone and nine was available," he said. "It is still a good draw because he should be able to sit in mid-division or just behind the leaders."
Beasley added: "New Trails has gone from strength to strength this season and we're probably still learning about him. Finishing second to North America in the Al Maktoum Challenge R2 showed that he can be competitive in the best company."
North America
With his major work done, the 7-year-old remains in good shape ahead of Saturday's big race.
"He just hacked around for a mile (1600m) at home. He'll do something similar tomorrow," said his trainer Satish Seemar. "He's looking great and eating well, so we look forward to Saturday."
PAVEL
The grey Dubai World Cup contender Pavel was not worried by the rain when he came onto the dirt track at 5:00 a.m. He cantered over 2400m and Leandro Mora, Doug O'Neill's assistant, who has travelled with Pavel all over the world, said: "I was very happy with what I saw. The rider, too, was happy. He said he feels that the horse is much better than last year, which I hope is true!"
SEEKING THE SOUL
Charles Fipke's seeking the Soul was among the first horses on the track Thursday morning, coming on right at 5:00 a.m. and galloping twice around.
"He did great," trainer Dallas Stewart said. "He's ready."
Stewart and Fipke are teaming up with their second straight Dubai World Cup attempt one year after their champion mare Forever Unbridled finished a close fifth against the males.
THUNDER SNOW
The defending Dubai World Cup champion trained at his regular Al Quoz training base. Trainer Saeed bin Suroor was at Meydan for the daily press conference.
"The last time he ran on Super Saturday, I told everybody he needed the race," Bin Suroor said. "The way he's gone in the morning so far, he looks good. He has some confidence about him."
YOSHIDA
Yoshida, trained by Bill Mott for owners China Horse Club International Ltd, WinStar Farm, Starlight Racing and Head of Plains Partners, took to the Meydan dirt track at 7:00 a.m. on Thursday under exercise rider Penny Gardiner. The 5-year-old son of Heart's Cry was led out by Mott's son and assistant trainer, Riley, to gallop over a sticky surface that was sealed on the inside path. A Grade 1 winner on dirt and turf, Yoshida again thrived during his track work following a day where he walked the shed row.
"He's a horse that's versatile and runs over anything," Riley Mott said. "He just had a regular gallop and finished up down the backside. We're just trying to keep him happy until race day. He'll have a gallop day tomorrow and then give him a light day on race day."
Elliott Walden of WinStar Farm was trackside to watch his stallion prospects and Dubai World Cup contenders Yoshida and Audible train.
"They looked great. Both of them galloped well and it seems like the track is good. Now we're just playing the waiting game," Walden said. "For both of them, for Yoshida and Audible, it will be a good opportunity here and we've been looking forward to it and then we'll regroup and see what the rest of the year brings."
PHOTO BY DRC