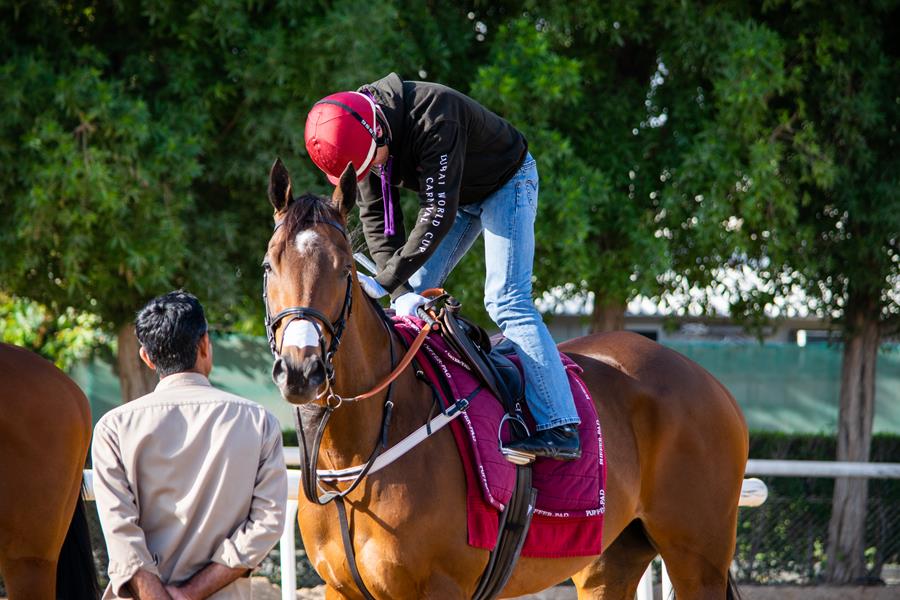 DUBAI WORLD CUP NEWS OF THE DAY
Wednesday, March 27, 2019
$12 MILLION DUBAI WORLD CUP G1 SPONSORED BY EMIRATES AIRLINES
Audible—The son of Into Mischief continued to make a strong impression in advance of the $12 million Dubai World Cup sponsored by Emirates Airline (G1), coming to the Meydan dirt track right at 7:00 a.m. and galloping twice around under Amelia Green.
Audible was given an extended freshening after running third in last year's Kentucky Derby (G1) and returned with a victory in the Cherokee Run Stakes at , Capezzano, Gronkowski—All three of the Salem Bin Ghadayer-prepared charges trained at the handler's Al Aryam Stables facility Wednesday morning.
Churchill Downs last November. In his most recent effort, a fifth-place finish in the Pegasus World Cup Invitational Stakes (G1) on January 26, he was never able to get himself down to the inside portion of the track which was playing more favourably.
"He's one of these horses where it's difficult to get a handle on in the race and he can fool you in the mornings," said Jack Wolf of Starlight Racing, which co-owns Audible along with China Horse Club, WinStar Farm, Head of Plains Partners. "In the Pegasus, even though he had a little run at the end, I think he took the worst part of the track. Hopefully we can draw a line through the Pegasus and hope that he shows up. He really is a durable, hard-working horse."
Axelrod
"We breezed yesterday (Tuesday) and I was very pleased with all of them," Bin Ghadayer said. "Capezzano is in good health and very happy and completely ready for the race. He just gets on with his work and there's literally nothing else I could ask of him."
Capezzano was a nine-and-a-half length winner of the Group 1 Al Maktoum Challenge R3 on Super Saturday, beating defending Dubai World Cup champion, Thunder Snow into second, and Bin Ghadayer believes that his five-year-old Bernadini charge is yet to show his best.
"This horse could be anything," said the trainer. "I always felt about this horse, since he came to us, that he will go further than a mile (1600m). I knew it wouldn't be a problem for him and he's absolutely ready."
Also lining up on Saturday will be Phoenix Thoroughbreds Ltd's American imports, Gronkowski and Axelrod. Gronkowski - who is part-owned by New England Patriots wide-receiver Rob Gronkowski, for whom the colt is named - was second in the Grade 1 2018 Belmont Stakes while two-time Grade 3 winner, Axelrod was ninth in the Breeder's Cup Classic.
"They are doing very well," Bin Ghadayer said. "Gronkowski especially is really firing. Gronkowski's fifth in his prep race was really him running on his class because he was only about 80 per cent fit, but now he is fully ready for the race."
Bin Ghadayer believes the Dubai World Cup will be an open contest.
"Everyone has a chance," he said. "I think it will be a fast-paced race with the front runners taking it on. A horse like Gronkowski likes to pass other horses and he's ready for the race so we are really looking forward to it."
Dolkong—Not before stopping to pose for the cameras for a considerable length of time, South Korean trailblazer Dolkongconsented to canter on the dirt track on Wednesday morning under regular work rider Lizzie Stubbington. Connections continue to be upbeat about the 5-year-old's chances of returning home with some prize-money.
"We're really happy with how he is. He's relaxed, but he's in top shape," trainer Simon Foster said.
"He will have a swim before he goes back to his stable. Might just swim tomorrow and do something light on the training track on Friday. We have done everything we can do with him and he has responded every time. It would be great if he draws a good gate later this morning."
Gunnevera—It continues to be a very relaxed preparation for Antonio Sano's contender, who completed his serious work back at home. He had another leg stretch around the dirt track this morning and Sano's son and assistant Alex said: "He went half a lap jogging the opposite way and then did a lap and a half again - the first lap he did in a slow gallop then finished the final half in an open gallop style.
"My father was here this morning to supervise the training, he arrived last night from Miami. He's very happy to see how the horse is performing and that he travelled well. He has a lot of confidence in this year's race."
K T Brave—K T Brave was out first thing on the dirt track this morning and clocked his final breeze in preparation for the race, going 1000m in 59.6, finishing up with an 11.3 final 200m under exercise rider Yosuke Fusano.
"Upon his arrival in Dubai, he was tense and did not eat well, but once he started to settle himself into his surroundings then his appetite came back. I breezed today as planned," said his trainer Haruki Sugiwaya, "His regular jockey (Yuichi Fukunaga, who will not ride him in Dubai due an engagement in Japan) has told me the dirt at Meydan will likely suit him. Based on his gallop this morning, he seems to cope with the surface well and I can agree with Yuichi. He can race on the pace or off, so hopefully he gets a good draw and gets to runs his race."
New Trails—Trainer Ahmad bin Harmash's first venture into the heady heights of the Dubai World Cup sponsored by Emirates Airline (G1) with the formerly French trained New Trails continued its calm preparation on Wednesday.
"Everything is just ticking over," said Bin Harmash, who gave New Trails and the rest of his five-strong team the last of their serious work at the weekend.
Reflecting on the task ahead, he added: "It's a dream come true and a real challenge. I am privileged to have champions capable of performing at the top level."
North America—The 7-year-old remains in good form at trainer Satish Seemar's Zabeel Stables as the countdown to Saturday continues.
"He worked on Monday over 800m and we've just been hacking around with him," Seemar said.
"He's eating good and we've just got to wait for the hours to pass until Saturday. I'm keeping a lid on everything because last year didn't work out but I am thinking positively going into the race. It looks an open race."
Pavel—The Doug O'Neill trained Dubai World Cup contender Pavel came onto the dirt track at 5:00 a.m, where he first walked behind the stalls and then went for a jog.
Leandro Mora, Doug O'Neill's assistant, was positively beaming when he said: "I was very happy that he went out and jogged. It was a test, as he worked the day before yesterday and actually this morning it made my day as I was very happy with what I saw. I'm very pleased with it. I put Pavel through the stalls, which is just a routine. I mean, he has been through them already last year, so he knows them."
Seeking the Soul—Charles Fipke's Seeking the Soul came out for an easy gallop under regular rider Pedro Velez and maintained the same routine he has had since arriving March 20.
"He's had a lot of good days since he got here and today (Wednesday) was just another one of them," trainer Dallas Stewart said. "It got nice and cool right before he trained and he looked like he really enjoyed it. He's hitting the ground good. His attitude is great. He walked back to the barn looking happy with what he's doing."
Later on Wednesday, post positions were to be drawn for the Dubai World Cup, but that was not a concern for Stewart.
"I'd like to be in the middle somewhere," Stewart said. "I guess I wouldn't want to be down on the inside, but that's not really a concern. (Jockey) Mike Smith is a big time rider, so I have no worries about that."
Thunder Snow—Already the only horse to have won both the UAE Derby and Dubai World Cup, Godolphin's Thunder Snow will bid to become the first dual winner of the latter again on Saturday.
Trained by Saeed bin Suroor, who is seeking to add to his record eight Dubai World Cup victories, the 5-year-old entire son of Helmet has been a star for his connections and, as well as his UAE feats, is also a dual Group 1 winner on turf in Europe.
Thunder Snow was third in the Breeders' Cup Class (G1) and was then given a deserved break until Super Saturday three weeks ago, when second, but after Bin Suroor had forewarned everyone his stable star would need the outing.
"The plan after the Breeders' Cup was always to freshen him up after a busy year and wait for Super Saturday," Bin Suroor said. "We were very pleased with that comeback run because he very much needed it and has certainly improved a lot for it. He did his final serious piece of work on Saturday and we were delighted with him so we are looking forward very much to Saturday.
"He won the UAE Derby on Dubai World Cup night two years ago and the Dubai World Cup itself 12 months ago so we very much hope he can make it three consecutive years. Obviously it is a tough race and we have not seen the draw yet but he proved last year he could overcome a wide gate so we are not too worried about that."
Jockey Christophe Soumillon added: "He performed pretty much as we expected on Super Saturday when we knew he was going to need the run so, in the circumstances, he ran well for a long way. The three weeks since should have put him spot on and the team are very happy with him."
Yoshida—Yoshida, who enjoyed a short maintenance breeze on Tuesday morning at Meydan, walked the shed row on Wednesday.
Trained by Bill Mott for owners China Horse Club International Ltd., WinStar Farm, Starlight Racing, and Head of Plains Partners, the 5-year-old son of Heart's Cry is being prepared locally for the Dubai World Cup by Mott's son, Riley.
The versatile Yoshida rose to prominence last summer by capturing two Grade 1 events, the Turf Classic at Churchill Downs and the Woodward on the Saratoga dirt, in a three-month span. Yoshida will be piloted by Dubai debutant Jose Ortiz.
$6 MILLION DUBAI TURG G1 SPONSORED BY DP WORLD
Almond Eye – The Japanese hope went for her much-anticipated breeze this morning under her regular jockey Christophe Lemaire. She travelled the 1000m over the Meydan turf course slowly gathering speed and finished the 200m in 11.8.
"She settled on the track very well this morning," Lemaire said. "She was focused on her work, so I was very happy with the work today."
Deirdre – Deirdre made her final gallop in preparation for the Dubai Turf this morning going 1000m under exercise rider Yuta Komiyama. The overall time was only 70.1 but she accelerated well to finish sharp clocking the 200m in 11.1.
"She moved nicely and worked with good enthusiasm this morning. She has stayed in good shape and still looked happy after the gallop," Komiyama said.
Dream Castle (GB) – Already a Meydan Group 1 winner, having landed Super Saturday's Group 1 Jebel Hatta, Godolphin's Dream Castle looks to have leading claims over the 1800m turf course and same distance as his victories in the Singspiel, Al Rashidiya and aforementioned Jebel Hatta. He is three for three this year since being gelded.
His trainer, Saeed bin Suroor, won the Dubai Turf with Benbatl last year, who like Dream Castle was victorious in both the Singspiel and Al Rashidiya, but only second in the Jebel Hatta.
Bin Suroor said: "He has done nothing but improve this year and is showing the kind of form we always believed him capable of. Saturday's race is his toughest yet but we are very happy with him."
I Can Fly – "I Can Fly is well and did what we hoped she would at Dundalk a few weeks ago. She's very straightforward but also has plenty of class and we are looking forward to her running," trainer Aidan O'Brien said.
Lord Glitters – It was a familiar routine for the grey as he appeared on Meydan's turf track at 7:00 a.m.
"He's feeling great," said Colin Bolger, who was aboard the 6-year-old. "Everything is A1. We had a normal canter today and everything is good with him."
Southern Legend – Mere moments after superstar filly Almond Eye scorched the Meydan grass on Wednesday morning, her rival in Saturday's Dubai Turf, Southern Legend, shaped as a far less imposing figure when he ambled through an easy 1000m gallop. Not that trainer Caspar Fownes is worried, though; far from it.
"Almond Eye is the one, she is a champion and champions are very hard to beat, but you have to be in it to win it and our boy is in good order," Fownes said. "We just wanted him to have an easy time this morning. He's very fit, he's tough and he tries hard. I feel confident that he will perform with lots of merit and run his usual, honest race."
Jockey Zac Purton will arrive in Dubai after riding at Happy Valley on Wednesday night.
Vivlos – Had her final breeze Wednesday morning over the Meydan turf course with regular work rider Shinji Yasuda. She initially warmed up with a one lap canter over the dirt track before moving over to the turf where she went 1000m in 67.3, finishing with a solid 12.3 final 200m.
"In the work, we asked the rider to push her a bit towards the end of the gallop. Her condition is always good at the time of the year. Mickael Barzalona will ride her on Friday," trainer Yasuo Tomomichi said. "Actually Hugh Bowman told me that he wanted to ride her, too. But considering his riding weight, I would like him to focus on Cheval Grand, and we went with Barzalona."
$6 MILLION LONGINES DUBAI SHEEMA CLASSIC G1
Cheval Grand – Cheval Grand had his final breeze Wednesday morning over the Meydan turf course with regular work rider Shohei Matsudate in preparation for Saturday's Longines Dubai Sheema. He initially warmed up with a one lap canter over the dirt track before moving over to the turf. The large chestnut son of Heart's Cry went 5 furlongs 68.4, with a sharp 12.2 final furlong under regular work rider Shohei Matsudate.
"This is his first race after a 3-month break, so I had been pushing him in training back home. He galloped for 1000m today. He moved comfortably and smoothly during the gallop," said trainer Yasuo Tomomichi, "Hugh Bowman knows this horse and has ridden him best at the races. Bowman will give him an easy work on Friday."
Hunting Horn, Magic Wand – Aidan O'Brien said of his pair from Ireland: "Hunting Horn has been busy already this year, running at Gulfstream and in Qatar, and he is fit and well. We think he can run a good race."
"Magic Wand is in good form. She came to hand early and she ran well in the Pegasus Turf in Florida. The prospect of going up in distance on what we hope is faster ground than what she had in America last time will suit her. "
Old Persian – The winner of Super Saturday's Dubai City Of Gold Sponsored by Emirates SkyCargo had a breeze on the grass at trainer Charlie Appleby's Marmoom stables this morning to complete his preparations for the weekend.
William Buick's mount will be bidding to provide Godolphin with their third straight win in the race following on from Hawkbill and Jack Hobbs, and the 4-year-old boasts great form having beaten subsequent Melbourne Cup winner Cross Counter at York last August.
"He has had his prep run and we haven't needed to do a lot with him at home," Appleby said. "He worked on the grass last Saturday and was on the turf again this morning.
"He is a Royal Ascot winner, he beat a subsequent Melbourne Cup winner in Cross Counter at York last summer so he has good solid form. Hopefully his progression from three to four is visible and I think we saw that on Super Saturday on his first start as a 4-year-old. "
Rey de Oro – Clocked his final fast work first thing Wednesday morning under regular rider Christophe Lemaire on the Meydan turf course. The Japan Derby (G1) winner went 800m in 53.5, wrapping up the work with a solid 12.1. "It is a really nice turf course, easy to run on," Lemaire said. "He moved really well this morning. He has matured physically, so he must run better than last year."
Lemaire continued: "This year's field has only eight, so the draw is not pretty much of an issue, but I do not want him to go too wide turning for home. Hopefully he jumps well from the gate and gets a good spot for his strong finish."
Suave Richard – Suave Richard was out on the dirt track this morning to stretch his legs after his breeze yesterday. He did a bit of schooling in the saddling area and the paddock before heading back to the barn under work rider Junji Kubo. "I was happy to see how well he moved well today, after his work yesterday," said his trainer Yasushi Shono. "He still had plenty of energy on the track. We will canter him a bit throughout the rest of the week, but he is as we'd like to see him before any race back home."
Racing History – Saeed bin Suroor saddles Godolphin's Racing History, second in the Dubai City Of Gold on Super Saturday over the 2410m on turf.
Bin Suroor said: "It looks a tough race but we know the trip suits him and he is in very good form at home."
$2.5 MILLION DUBAI GOLD SHAHEEN SPONSORED BY GULF NEWS
Drafted – Drafted, trained by Doug Watson for Misty Hollow Farm, drew post 5 in a stellar field of ten assembled for the Dubai Golden Shaheen sponsored by Gulf News.
"A middle draw for Drafted is good. I'd like to have been a little further out, with just one or two outside of us so we have a clean spot. He runs through kick back, but he's just not a big fan of it," Watson said. "If he breaks well, I'd like him to be a little bit closer before he starts making his move."
The 5-year-old son of Field Commission cantered 2000m on Wednesday morning at Red Stables.
Drafted sports an all-or-nothing type record with six wins and one second from 12 starts. When on his game, and he often is at Meydan where he has recorded five victories including a last-out score in the Group 3 Mahab Al Shimaal, Drafted can be untouchable.
Pat Dobbs will be in the irons on Saturday and Watson said he expects the rider to make one run.
Imperial Hint – Trainer Luis Carvajal Jr. continues to be very happy with how Raymond Mamone's Imperial Hint has been training towards the Dubai Golden Shaheen, two years after having to miss the race after the horse got sick upon arrival in Dubai.
"He's great," Carvajal Jr. said. "So far everything couldn't be better. It's been great since the day we got here. You always get nervous shipping, but I couldn't be happier."
Imperial Hint will be lining up against some familiar foes Saturday with XY Jet and Roy H, who finished second and third, respectively, last year.
"It seems like you have the best sprinters in world in the race," Carvajal Jr. said. "It's always tough to ship halfway around the world for a race like this. Everyone has a chance to win. I don't think it's a sure thing."
Matera Sky – With top Japanese jockey Yutaka Take in the irons, he put in a bullet work this morning at 5:00 a.m. going 1000m over the Meydan dirt track. Completing the breeze in 64.4, he went steadily before covering the final 200m in 10.5. "He has put on a little more weight than I'd like so I had Take give him a good go this morning, " said his trainer Hideyuki Mori, "He did it really well, so I think we are ready to go."
"He needed to strong work to sharpen up, so I rode him a bit hard this morning," Take said. "Over 6 furlongs (1200m) we gradually got faster, and he really turned it on in the last furlong (200m). Since he's been here before, he is nice and relaxed."
Promises Fulfilled – Emerged shortly after 7:00 a.m. under exercise rider Heather Smullen and galloped over the Meydan dirt track two days after putting in his final serious work in advance of the Golden Shaheen.
"He was moving well and came back sharp," Smullen said.
Trained by Dale Romans and owned by Robert Baron, Promises Fulfilled has thrived since cutting back to sprint distances following an off-the-board effort in the 2018 Kentucky Derby (G1). The chestnut colt won three of his last four starts of his sophomore campaign, including a victory in the H. Allen Jerkens Stakes (G1) at Saratoga last August 25. When he won the Phoenix Stakes (G2) at Keeneland in October, he became the only member of last year's 3-year-old male dirt division to defeat older horses in a graded stakes.
Roy H – After jogging around the oval yesterday morning Rockingham Ranch and David Bernsen's runner did not make an appearance trackside on Wednesday morning and instead he remained in the barn area under the watchful eye of Peter Miller, along with the trainer's other three charges entered on the Saturday night card.
"They all just walked. Pete had a plan for them and this morning Pete's plan was to just keep them all happy and healthy and keep them back at the stable,' said Rockingham Ranch racing manager Brian Trump, who arrived in Dubai this morning from his Southern California base. "They just walked through the paddock area back there and we did not bring them to the track today. At this point they are happy and healthy."
Roy H, the defending back-to-back (2017-2018) Breeders' Cup Sprint winner finished third in this race last year and is well familiar with the drill here.
"The good news is they have been here before so they are keen on that experience already. There will be no changes with equipment or schooling or anything else. Even though we didn't win last year we were right in the swing of things, so hopefully, we can be right there this year and then pull it off," Trump said.
Rockingham Ranch's principal is Southern California commercial and residential real estate developer Gary Hartunian and the stable is also the majority owner of fellow Dubai Golden Shaheen competitor X Y Jet, the runner-up last year. Rockingham Ranch in addition owns 2017-2018 Breeders' Cup Turf Sprint winner Stormy Liberal, who returns to the Al Quoz Sprint for Miller after a tough beat second place finish in 2018.
With that powerful line-up Saturday it seems as though Rockingham Ranch has a big target on its back this year in both races.
"It's an away game for us so for us it doesn't feel that way. The bottom line is that you have to show up and as long as they're prepared that's the best we can ask," said Trump.
Tato Key – Twelve time winner Tato Key continued to warm up for his biggest assignment to date by cantering just over a lap of the Meydan dirt track on Wednesday morning. The David Marnane-trained 4-year-old arrived shortly after 7.00 a.m. and continues to please his trainer while in Meydan.
"He was as good as gold going around there again this morning," Marnane said. "That was the exact same as yesterday and we'll just keep him ticking over now until Saturday. He's a very professional horse. Timmy (work rider) knows him well so he'll just do the same thing each morning between now and the race."
Tato Key was second in the Al Shindagha Sprint in January behind Drafted before going down to the same rival again when finishing third in the Mahab Al Shimaal last month.
"I think the three week lead into this race will be perfect for him as he had five weeks between his first run and second run out here and that was maybe slightly long," Marnane continued.
X Y Jet – The blistering fast X Y Jet continues to look well during track work at Meydan in advance of his third appearance in the Dubai Golden Shaheen sponsored by Gulf News.
Trained by Jorge Navarro for owners Rockingham Ranch and Gelfenstein Farm, X Y Jet finished second here, by a neck, in 2016 when collared by Muarrab. The 7-year-old Kantharos gelding, who was troubled with knee issues and raced sparingly, returned last year with another prominent effort only to be nabbed at the line by the rallying Mind Your Biscuits.
X Y Jet took to the Meydan dirt at 7:00 a.m. on Wednesday under exercise rider Anthony Cruz with both Navarro and owner Brian Trump of Rockingham Ranch in attendance.
"He went for an open gallop just to let him stretch his legs," Navarro said. "He's doing good. I'm very happy with how we're going into the race. I'm confident in him. I believe my horse belongs here and this is the best he has ever trained in the four years I've had him."
The speedy grey missed days of training ahead of last year's Dubai Golden Shaheen but has proven to be a fixture on the Meydan dirt this week with some efficient strides.
"I hope everything stays the same for the next three days," Navarro said. "Today, he picked it up a little more. Tomorrow will be his last day of training and then he walks (the shed row) on Friday. "
Rockingham Ranch is also represented on Saturday's lucrative Dubai World Cup card with the returning Roy H (3rd, 2018 Dubai Golden Shaheen) and Stormy Liberal (2nd, 2018 Al Quoz Sprint).
"We've been blessed every year to bring all three of these horses here," Trump said. "It's the fourth year we've been coming to this event. It's truly a spectacle and we really enjoy the experience."
Trump was full of praise for Navarro's horsemanship in keeping X Y Jet in good order ahead of Saturday night's test.
"There's always a concern when you have a horse that's had three knee surgeries, but Jorge Navarro has done a tremendous job with this horse," Trump said. "X Y Jet is a gritty horse. He's been nosed out here twice now and we're hoping that the third time's a charm for him. He's a very special horse to us all.
"With sprinting, in general, there's not many spots. We look every year at the Dubai Golden Shaheen and the Breeders' Cup Sprint as our two bookends for the year. We plan our races for the year around these two races.
$2.5M UAE DERBY SPONSORED BY SAEED & MOHAMEMED LNABOODAH GROUP
Divine Image – The Al Bastakiya Sponsored by emirates.com winner had an outing on the grass at trainer Charlie Appleby's Marmoom stables on Wednesday morning to complete her preparations.The filly has matured with each of her three runs at Meydan this year and looked much more the finished article when breaking smartly to win by a wide margin on Super Saturday.
"Divine Image is a filly who has pleased us all winter," Appleby said. "You can forgive her her first start here as she was very slow from the gates, and you just can't do that on the surface. She has done nothing but please us since and she has progressed every time we have seen her on the racecourse."
Gray Magician – The son of Graydar, whose maternal grandsire Johannesburg won the 2001 Breeders' Cup Juvenile, was a bargain $18,000 purchase as a yearling for owners Wachtel Stable, Eclipse Thoroughbred Partners and Gary Barber. He's earned $84,140 with one maiden special weight victory in seven starts but is still looking for his first stakes score as he steps up into international Group 2 company.
"I think it's a wide-open race. I think he's as good as any of them, " said trainer Peter Miller while addressing the decision to send him here, "I'm pleased with how he looks."
After being sent out onto the track Tuesday morning under Paco Lopez for a final blow-out of three furlongs, Gray Magician did not make a trackside appearance today. He remained in the stable area, where he was walked along with Miller's other three Saturday entrants. Gray Magician will break from gate 8 under Joel Rosario.
"That's a good draw for him in the middle of the field. He's tactical so I'd like to see him get a position, and then hopefully, we're good enough," Miller said.
Jahbath – William Haggas will be on the ground in Dubai on Thursday and has left preparation of His Highness Sheikh Hamdan bin Rashid Al Maktoum's colt to his staff. He made another appearance on the dirt track under regular partner Simon Scott, with big-race jockey Jim Crowley expected to have a feel of his mount tomorrow.
"He's very well and the boys are happy with him. He cantered today with a stretch planned for Thursday," Haggas said.
Plus Que Parfait – Trainer Brendan Walsh, who arrived in Dubai Tuesday afternoon, likes what he sees from his charge.
"All is good. We kept him back in the barn today because we wanted to give him a quiet day after he had a little blow out yesterday (under assistant Tommy Molloy). He'll be back on the track tomorrow. We're very happy with him so far," Walsh said via text. "He drew post number 4 (in the 15-horse field) and I am pleased with that. Very much so."
Plus Que Parfait, which means more than perfect in French, gets the services of top rider Jose Ortiz.
Stubbins – The UAE Derby contender came onto the dirt track on Wednesday morning and like his stable companion Pavel, he went through the stalls. Leandro Mora, Doug O'Neill's assistant, said: "I'm very happy with him. Stubbins needed to see these stalls, which are a lot narrower than the ones we have in the States. So it was important that he went through them. He had a look at them when I first took him there and then everything went smoothly. So I'm really pleased with it. "
Van Beethoven – Trainer Aidan O'Brien said of his contender: "On the dirt and up in distance from his last run over a mile at Dundalk, we think Van Beethoven can be competitive."
Walking Thunder – Three runners from Ahmad bin Harmash's local desert stable are enabling their owners, the Phoenix Ladies Syndicate, to enjoy a remarkable first season.
Pamela Cordina, organiser of the five-strong syndicate, which is an offshoot of the Phoenix Thoroughbreds operation headed by director Amer Abdulaziz, had a smile on her face on Wednesday when she commented: "The big boss is upset because we have taken more trophies in the UA this season than he has."
The UAE Derby trio of Walking Thunder, Golden Jaguar and Superior have contributed six wins between them, all under stable jockey Connor Beasley.
Given the pick of the rides on Saturday, Beasley has chosen Superior, a first-time-out winner who has improved with each of his three runs.
Cordina explained: "Connor has clearly seen the scope for improvement in the colt, but we are equally delighted that Oisin Murphy will ride Golden Jaguar and Frankie Dettori is on Walking Thunder."
Abdulaziz revealed big plans are already being made for the trio, depending on Saturday's result. He said: "If Walking Thunder wins, he will go for the Kentucky Derby, and Golden Jaguar will probably go to Europe, where he already has an entry in the 2000 Guineas at Newmarket. We want to keep Superior for the Dubai World Cup next year."
$2 MILLION AL QUOZ SPRINT SPONSORED BY AZIZ DEVELOPMENTS
Belvoir Bay And Stormy Liberal – The Peter Miller stablemates, part of the trainer's four-horse contingent for Saturday night's card, followed up their Tuesday morning final blow outs with a quiet day back at the barn on Wednesday ahead of Saturday's $2 million Al Quoz Sprint (G1) sponsored by Azizi Developments.
Stormy Liberal is owned by Rockingham Ranch and David Bernsen LLC and racing manager Brian Trump said that Miller had all four horses simply walk in the stable area. Trump reported that the 2017-2018 Breeders' Cup Turf Sprint winner and 2018 Male Turf Horse champion, who was a runner-up in last year's edition of the Al Quoz Sprint, is primed for this race.
"Stormy Liberal is excellent. It's frustrating because his two prep races (in California) for this didn't go the way we were hoping. In the first race he got beat by Caribou Club (also in the 2019 Al Quoz field) in a Grade 3 race, and quite frankly, I don't think he was cranked up yet. We probably needed to get a few more works in him. In his second race, the allowance race, he slipped and the rider said it was a pretty substantial slip and he almost went down. Luckily, he was safe. We wouldn't have put him in this position to move forward here if he wasn't 100 per cent. He traveled here very well. He's looked great out on the track. He's ready to go now. The key with him is he always seems to peak at the right time. We expect a big race out of him," Trump said.
Belvoir Bay, a 6-year-old mare, comes in to the biggest test of her career undefeated in 2019. The multiple graded stakes winner won the Wishing Well by 4 ¾ lengths on Feb. 16 and the Las Cienegas by 1 ¼ lengths on Jan. 12, both at Santa Anita.
Miller's other two Dubai World Cup Card runners are Rockingham Ranch's Roy H in the Dubai Golden Shaheen and Gray Magician in the UAE Derby.
Blue Point – A further two spins around Charlie Appleby's Marmoom stables's dirt track await the main contender for the Al Quoz Sprint sponsored by Azizi Developments after the 5-year-old breezed on the grass there this morning.
After being withdrawn at the start 12 months ago, connections have given him an extra outing in the build-up to the race to allow him to be even better prepared, and his trainer described his key assets.
"He is a great traveller and that allows him, barring any traffic problems, to travel into a race and he then has that turn of foot to quicken away, which is what you need at the top level – and hopefully what we will see on Saturday."
Caribou Club – At the age of five, Caribou Club is showcasing arguably the best form of his career as evidenced by his victory over champion Stormy Liberal in the Joe Hernandez Stakes (G3) at Santa Anita Park. Given his family's history, owner/breeder Glen Hill Farm is not surprised the gelded son of City Zip is turning out to be worth the wait.
Though his resume isn't as glamorous as some, Caribou Club is following a longstanding trend amongst his kin of getting better with age. His dam Broken Dreams – herself a Glen Hill homebred – didn't debut until age four and waited until the following season to earn her first graded stakes victory.
"The family gets better as they get older," said Craig Bernick, president and chief operating officer of Glen Hill Farm. "Caribou actually broke his maiden in a stake at two and had a good 4-year-old year and now he's five. I wish it was family that did their best running at two, you wouldn't have to wait so long. But we're patient because we know the family. Some horses they get better as they get older and that's the trait of his family."
Caribou Club earned his first graded stakes victory last June when he took the Connaught Cup Stakes (G2) at Woodbine and ended his 2018 campaign with a win in the Seabiscuit Handicap (G2) at Del Mar.
"He's not a pure sprinter all out the whole time. He can settle and make a big run, " Bernick said. "I'm looking forward to seeing what happens."
Lost Treasure – As scheduled, the quintet of runners on the night from Aidan O'Brien remained in the confines of the stabling block with a first appearance on the dirt track set for Thursday morning, as has been standard practice at this meeting down the years.
"They are all well, they all travelled 100 per cent," said Pat Keating, Ballydoyle's vastly experienced travelling head lad.
"We will have them out at Meydan at about 7 a.m. tomorrow."
O'Brien added: "Lost Treasure will want a fast pace and we hope the ground is good and quick. We think he could have a good season if he gets things suit to him."
Sands Of Mali – Sean Davis was aboard the Group 1 British Champions Sprint winner as they went around the grass track at 5:00 a.m.
"He cantered six furlongs (1200m), going steady to the bend," Davis said. "It's beautiful turf, he got his toe in and he's doing very well."
The Right Man – On Wednesday, the Didier Guillemin trained The Right Man was a lot more relaxed when he came onto the dirt track at Meydan. He cantered in front of the stands and his trainer said: "The horse is calm and supple. He can be a bit tense but he is fine here. He jogged and then cantered over 1400m. He knows the track here, as he has been before and we are not changing anything."
Viddora – Australian mare Viddora took it easy on Wednesday morning with the Al Quoz Sprint (G1) contender having been put through her paces in a searching breeze a day earlier.
Trainer Lloyd Kennewell reported that all was well with the 6-year-old as she remained in the quarantine barns on Wednesday.
"I thought it was very nice work yesterday," " Kennewell said. "She really attacked the line last 100 metres, which was what we wanted. She seems to be thriving here. A pretty cruisy week will be in store for her now."
$1.5M GODOLPHINE MILE SPONSORED BY MOHAMMED BIN RASHID AL MAKTOU CITY - DISTRICT ONE
Coal Front – Coal Front was among the first horses to hit the Meydan dirt track, coming out at 5 :00 a.m. and putting in his typical strong gallop under exercise rider Amelia Green.
The fact that the son of Stay Thirsty is still in training, much less a leading contender for international accolades, is itself an impressive feat. After winning the Gallant Bob Stakes (G3) in September of 2017, Coal Front went to the sidelines and didn't return until the following November when he was fifth in the Bold Ruler Handicap (G3).
Since that run, however, Coal Front has not only picked up where he left off form wise, but improved upon his raw ability. After winning the Mr. Prospector Stakes (G3) in December, he stretched out to two turns and captured the Razorback Handicap (G3) by a neck in his seasonal bow on February 18.
"He's had some setbacks, he's had some interruptions in his training. But when he's been at the track, he's been really consistent," said his trainer Todd Pletcher. "He always shows up and runs well. I'm particularly proud of him for his last race, stretching out around two turns the first time and breaking from post 14. To be able to win from that post going long, my thought was it was a big, big effort from him. We feel like the one-turn mile (1600m) should suit him perfectly especially backing up off a two-turn race. "
Good Curry – The Bayram Kocakaya trained Good Curry, who has already run twice at Meydan, was continuing his preparation for his bid in the Godolphin Mile on the dirt track at Meydan on Wednesday morning.
Bulut, who has been here the entire time to supervise his work, said: "He hadn't run for a long time before he came to Meydan and he was a bit fresh. He finished fourth and after that race we worked him a bit more and then he finished second in the Group 3, but it was a record race. The winner was great. Now he is going to step up again. It will be even stronger. We will try. We are happy with him. He was drawn 10, which is OK. He is ridden by the champion jockey in Turkey who knows him well."
Muntazah/Kimbear – Muntazah arrives at the Godolphin Mile in career form with a pair of eye-opening Group 3 wins on the Meydan dirt.
The 6-year-old Dubawi gelding opened his 2019 account by capturing the Firebreak with a decisive win. The talented bay then confirmed his form with a facile 10-length romp in the Burj Nahaar.
Muntazah, to be piloted by Jim Crowley, drew post 6.
"I like the draw for Muntazah. He should have no problems from there," Watson said.
Watson will also saddle Kimbear in the Godolphin Mile. The 5-year-old Temple City horse finished sixth in this event last year. Both Muntazah and Kimbear cantered 2000m on Wednesday at Red Stables.
The experienced conditioner said Kimbear is recovering well from recent foot issues and has trained forwardly into Saturday's event.
"Kimbear has come out of his recent work well. You always worry about that foot after a work, but he came out of it very well," Watson said.
$1.5M DUBAI GOLD CUP SPONSORED BY AL TAYER MOTORS
Call The Wind – The Freddy Head trained chestnut came onto the dirt track at Meydan at 7:00 a.m. Wednesday morning, where he did a steady canter. His trainer, who had last come to Dubai in 2015 with Dubai Turf winner Solow, was pleased with what he saw and confirmed: "The horse looks well. He seems to be in great form. He is calm and mentally relaxed. Today, he cantered over about 1500 metres. I didn't want him to have a prep race here, as I prefer to train my horses at home in Chantilly. He had a prep run at home and seems ready. "
Cross Counter – The Charlie Appleby-trained 4-year-old and Emirates Melbourne Cup winner is set for Saturday night after a spin around the turf track at Goldolphin's private training facility at Marmoom this morning.
Cross Counter is one of the more lightly-raced runners in the race and will be having just his second start over 3200 metres.
"He is a horse who we saw progress last year," Appleby said. "Going in to the Melbourne Cup he broke the track record at Goodwood, was beaten by a horse who we like in Old Persian in the Great Voltigeur and then headed down to Australia and did what he did in the Melbourne Cup.
"We have a bit of an advantage on Saturday being a 4-year-old as we get a bit of an allowance from the older horses, which does help, but he's taking on established stayers now and I'm looking forward to seeing how he gets on."
Gold Mount – Trainer Richard Gibson arrived in Dubai on Wednesday morning and rushed straight to Meydan to inspect his two horses, headlined by Dubai Gold Cup (G2) runner Gold Mount.
Gibson is undertaking an audacious assignment with Gold Mount, stepping him up to 3200m for the first time, and he admits that it is a difficult task to give him the necessary grounding for the marathon journey in Hong Kong.
"It is quite difficult to prepare him for this distance, because there just aren't the races at home to do that," Gibson said. "However, he's had plenty of racing during our Hong Kong season so he's fit. He had a barrier trial about 10 days ago on the dirt at Sha Tin, that's a normal training tool for us in Hong Kong and I was very pleased with how he moved. He's not a big horse so he doesn't need a lot of work."
Gold Mount is Hong Kong's first runner in the Dubai Gold Cup and only the third Sha Tin-based horse to run over the 3200m trip in the last 15 years.
Prince Of Arran – Continued his usual routine of cantering around Meydan just after 7:00 a.m. with Natasha Eaton aboard.
Trainer Charlie Fellowes will arrive in Dubai this evening and Eaton said: "Everything is really good with the horse, we just had a normal canter today. The boss arrives tonight so we'll see what he wants to do tomorrow."
$1 MILLION DUBAI KAHAYLA CLASSIC SPONSORED BY MUBADALA
Al Shamoos – French handler Charles Gourdain arrived in Dubai on Wednesday and came straight to the track to see his mare go for a light canter once around the dirt track.
He seemed pleased with what he saw and he confirmed: "The filly is fine. I came this morning to see her work and I was happy to see that she moved well on that track. Changing surface always comes with a question mark.
"She has never run on this kind of dirt, but she seems to like it. She travelled over well and didn't lose too much weight, which is great, as she is a light filly and I am always worried that she might not eat properly. But she seems to have settled in fine here in Dubai. I think she is happy and looks like she is getting ready."
Photos by DRC