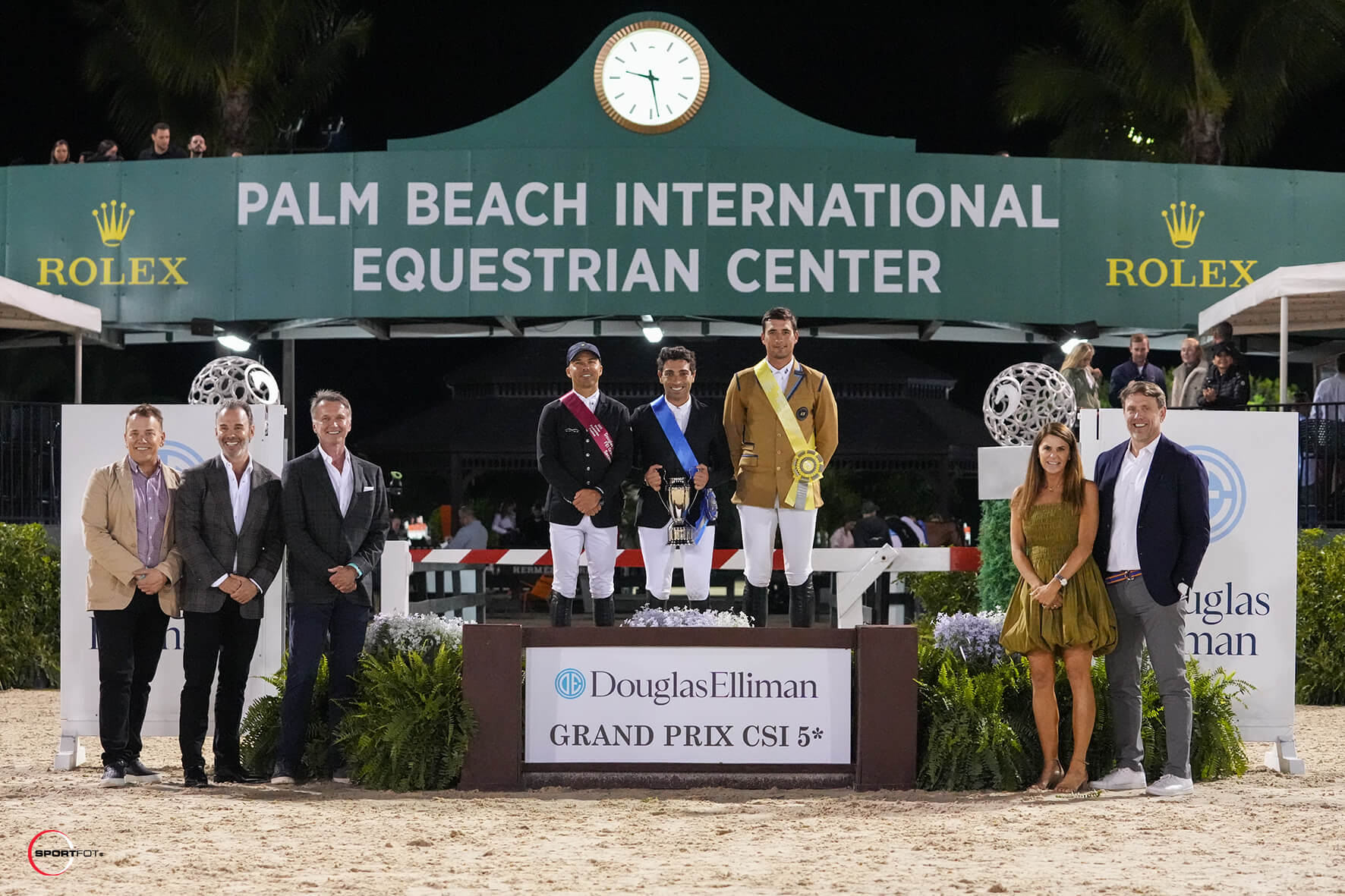 Abdel Said shines after CSI5* Grand Prix victory in Wellington
The penultimate day of the ninth week of competition at the Winter Equestrian Festival (WEF) concluded with its highly-anticipated "Saturday Night Lights" event. A large crowd flocked in for the $406,000 Douglas Elliman Real Estate Grand Prix CSI5* on Saturday evening. The night finished with Abdel Saïd (BEL) repeating his victory from 2021, but this time with his own Arpege Du Ru.
The event featured 41 of the world's best equestrian athletes spanning 13 different nations and a significant track by world-renowned course designer Alan Wade (IRL). Wade's test for the first round included a triple bar and a triple combination early on in the course as well as an open water obstacle.
2020 Tokyo Olympic Games team silver medalists McLain Ward (USA) and Contagious, owned by Beechwood Stables, were the class trailblazers, and they initiated the challenge with a clear round. Twelve pairs eventually found their way to a fault-free finish to contest the jump-off. The course's time allowed of 81 seconds only kept one combination from advancing to the second round, and six entries had their night cut short by a lone rail tipped out of the cups.
As the first of the 12 to return, Ward once again led the charge but an unfortunate miscommunication at a vertical left him and Contagious on a four-fault final score for sixth place. Saïd's performance with Arpege Du Ru produced the first double-clear effort of the class and bumped the pair into the top spot with a time of 38.58 seconds. Ten more world-class athletes gave it their all, but Saïd was determined to repeat his victory of the same class that he won during WEF 2021 aboard Bandit Savoie.
"I'm really delighted with my mare because all season she has been developing," detailed Saïd. "Every year we come to WEF, I find my horses develop further, and I'm thrilled it came together tonight. I really enjoy being here. I don't think there are many better venues in the world, especially at the beginning of the year, to set your horses up so well."
According to Saïd, he and his 12-year-old Selle Francais mare (Apache D'Adriers x Quat'sous) have been inching closer and closer to a win throughout the season, and it seems only fitting that he went two-for-two in this particular class.
"I had a time fault in the first five-star grand prix we did [at WEF]," added Saïd. "Tonight, I said, 'I will not be too slow.' I thought I might be too fast and have a rail, but the plan from the beginning was to go for it. I really wanted and needed that win for our whole team."