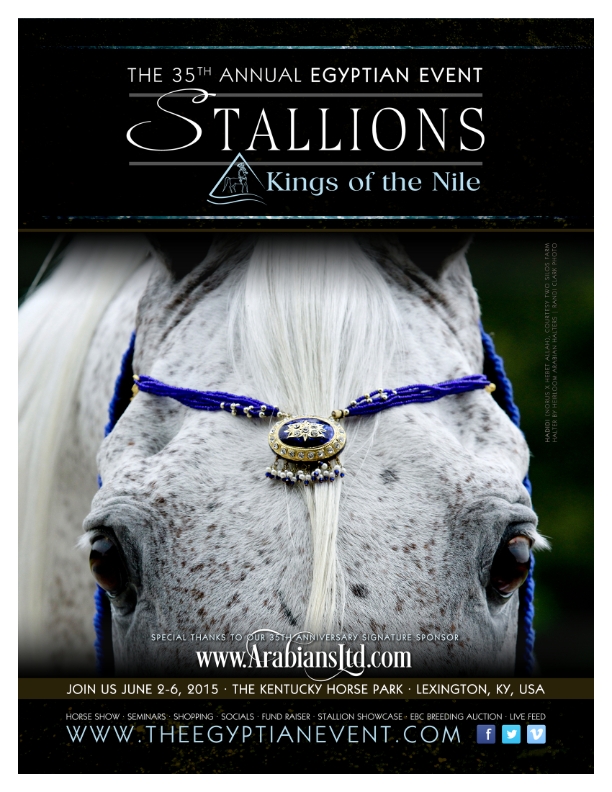 KENTUCKY HORSE PARK TO HOST ANNUAL COMPETITION
LEXINGTON, KY
The Egyptian Event, a premier showcase of Arabian horses, returns to the Kentucky Horse Park for its 35th Anniversary on June 2 – 6. The event has been described by guests and competitors as the "best show on Earth" featuring both Egyptian and purebred Arabian horses. Competitions include:
-Daily competitions including junior and amateur levels in halter, western performance, and hunter/jumper performance.
-Native Costume demonstration on Wednesday, June 3, at 1 pm.
-Educational seminars including Anatomy in Motion (Thursday), Stallions: Kings of the Nile title lecture (Friday), and Sport Horse In-Hand Clinic (Saturday).
-Daily youth activities including art projects, a horse nutrition seminar, and a stick horse class for children.
-Other visitor favorites include Liberty classes (horses shown without tack), participating in live and silent auctions, shopping at a variety of equine vendors, and daily activities for all ages.
The Egyptian Event serves as an international catalyst for owners and breeders of horses descended from stallions of the Bedouin tribes in the Arabian deserts. The horses, who share traits with purebred Arabians, served as the foundation for many of today's popular horse breeds. The 35th Anniversary of the show is hosted by The Pyramid Society with special thanks to signature sponsor Arabians, Ltd. We are also pleased to thank Al Rayyan Farm - our Desert Emissary exclusive trophy & ribbon sponsor.
Plan to attend this year's tribute to Stallions: Kings of the Nile and discover the beauty, grace, and versatility of the unique Egyptian Arabian breed. For a complete schedule of events, or more information, visit www.pyramidsociety.org or contact The Pyramid Society at 859-231-0771.
Promotional logos and photos are available upon request.
Contacts:
Kory Wilcox or Pamela Edwards
kory@pyramidsociety.org | (859)-231-0771
--ENDS--