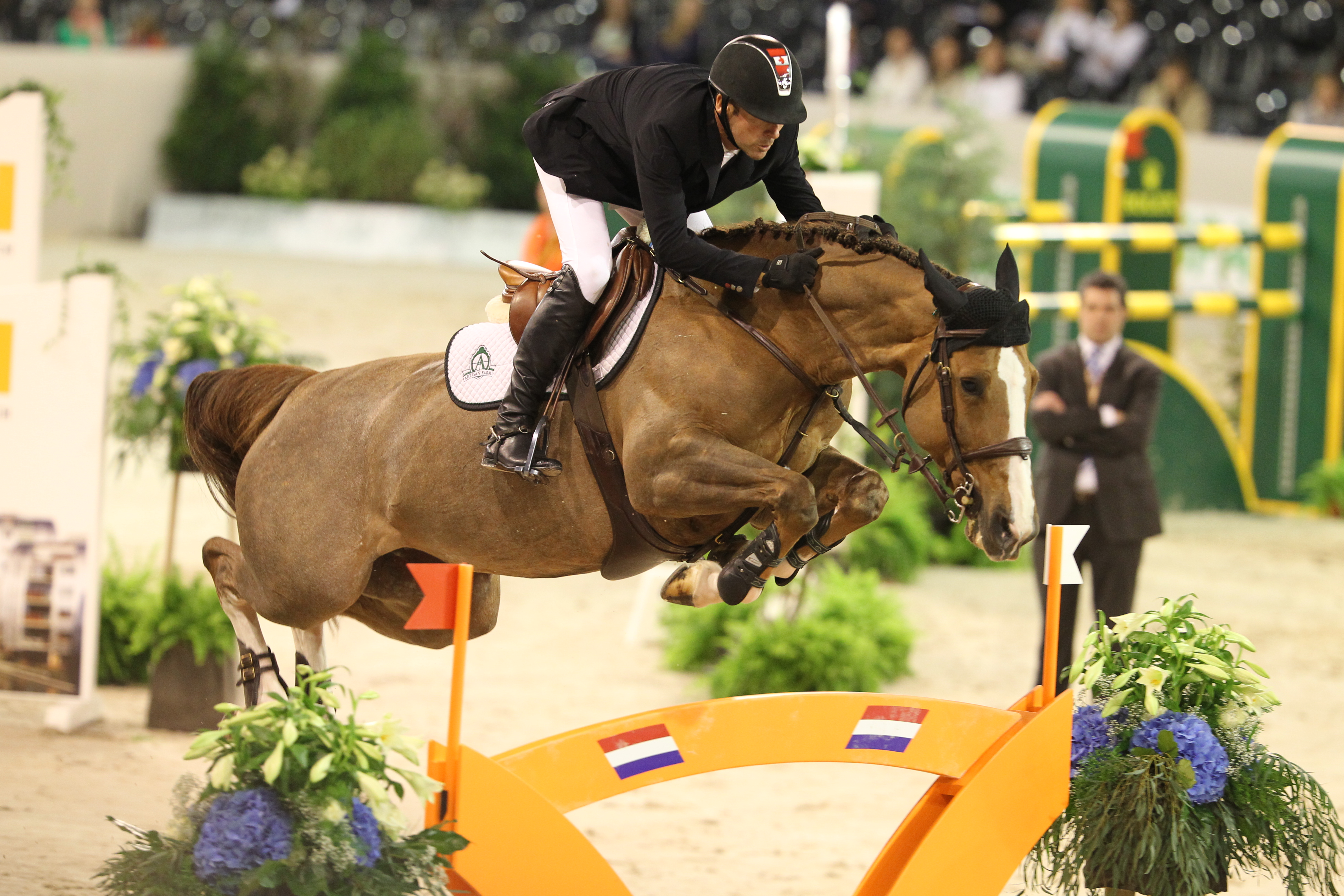 THE AUCTION ACT 1, THE EMBRYO COLLECTION ON FEBRUARY 15TH 2019, DEAUVILLE
PRESS RELEASE
Christophe Ameeuw, founder and CEO of Ecaussines and EEM, joins forces with French racehorse auction house ARQANA to present an innovative showjumpers auction program named The Auction. The objective of this partnership is to inject into sport horse auctions the professionalism and transparency that is customary in thoroughbred sales, using ARQANA's expertise.The program will propose two events in 2019.
Act 1 : The Embryo collection, 15 February from Deauville in full duplex with Hong Kong
The first act of "The Auction by ARQANA" will be held in Deauville in full duplex with Hong Kong as part of the Asia Horse Week and Longines Masters of Hong Kong, on 15 February 2019. For the first time in Asia, 20 embryos from the world's best show jumping horses will be auctioned.
Act 2 : Yearlings and performers will be auctioned in Paris in December 2019.
THE EMBRYO COLLECTION
LOT 01
CUMANO x VALENTINA VAN'T HEIKE (NABAB DE RÊVE)
He's a world Champion and she's the 1st Gucci Masters
winner from 10 years ago, an exclusive embryo of both of
Jos Lansink's top horses!
LOT 02
ELDORADO VAN DE ZESHOEK x CORIANA VAN
KLAPSCHEUT (DARCO)
She was 2nd at the Top 10 Final during Paris 2011 and the
mother of a world champion 7 year old. He's a promising
top sire!
LOT 03
EMERALD x REGINA Z (REX Z)
Both parents of this embryo have many impressive
wins ridden by the top ranked rider of the FEI Longines
Rankings, Harrie Smolders.
LOT 04
CARTHAGO x AZUELA DE MUZE (HEARTBREAKER)
A rare embryo of a world class sire crossed with a
daughter of the fabulous Narcotique de Muze II, Qerly
Chin pedigree!
LOT 05
CHACCO BLUE x GOYA (KANNAN)
He holds the record price at auctions. She's the full sister
of Babbe van't Roosakker as well as the daughter of the
very sought after Usha van't Roosakker!
LOT 06
CASSINI 1 x COCOSHYNSKI (CORNET OBOLENSKY)
He has passed away leaving behind an impressive legacy.
She's Cornet Obolensky daughter and has performed at
160 shows all over the world. A rare embryo not to be
missed!
LOT 07
HEARTBREAKER x CORONADA 6 (CORONADO)
He's a desirable dutch sire. She jumped many years at
the international level with her loyal rider, Christian
Schou!
LOT 08
CHACCO BLUE x CORDULA DE LAUBRY (FOR PLEASURE)
The late stallion of Paul Schockemöhle crossed with an
impressive performance pedigree!
LOT 09
CORNET DU LYS x ZIRKOON DE SEMILLY (DIAMANT DE
SEMILLY)
A unique embryo of one of the best, Cornet Obolensky's
son crossed with a Diamand de Sémilly daughter and
utero sister of the great champion Taloubet Z!
LOT 10
CUMANO x VIBELLE Z (VIGO D'ARSOUILLES)
The utero sister of the Olympic horse London and the
sought after pedigree of Ta Belle van Sombeke!
LOT 11
CORNET OBOLENSKY x DAME DE LA POMME (VIGO
D'ARSOUILLES)
Sire is real performer and has produced numerous top
prices at auctions. She is the full sister of the superstar
stallion Vagabond de la Pomme, an embryo that
combines power and victories!
LOT 12
CASALL X TEEKITIEZZIE DE MUZE (FOR PLEASURE)
He has won everything, even his last International Grand
Prix. She is the heiress to a lineage of champions!
LOT 13
EMERALD X CARRERA DE MUZE (DARCO)
With his performances he contributes to the world
number 1 ranking of his rider. She is the daughter of
Walnut de Muze who has performed on all continents
with this rider in the past!
LOT 14
CHACCO BLUE X COSMIC LADY Z (COSMEO)
A very limited amount of semen is left of this performer
stallion that left too soon. The maternal lineage of this
embryo groups all the superstars of the Zangersheide
stud.
LOT 15
ORIENT EXPRESS X SOUCHE DU ROUET (QUAPRICE BOIS
MARGOT)
He has very few products and was vice World Champion.
She is daughter of the full sister of the great Baloubet
du Rouet!
LOT 16

CONRAD x GAZELL (QUANTUM)
A very unique occasion to acquire an embryo of the
father. She is from the same maternal lineage as the
European Champion Myrtille Paulois!
LOT 17

KANNAN x FORMIDABLE (FOR PLEASURE)
He produced an Olympic Champion and a World Cup
winner. She has some of the biggest performing stallions
in her pedigree based on the exceptional lineage of Usha
van't Roosakker!
LOT 18

BALOUBET DU ROUET x RÖMERIN J (CORONADO)
He was Olympic Champion and three time winner of
the World Cup. She is from one of the most important
German lineages and already has a daughter who
performs at top international level!
LOT 19

CORNET OBOLENSKY x BUTRAGENIA (KASHMIR VAN
SCHUTTERSHOF)
He was the pride of the German team and his breeding
is one of the most interesting. She competed at
international level and is the only daughter of Kashmir
Van Schuttershof of the catalog!
LOT 20
FOR PLEASURE x HERA VAN'T ROOSAKKER (WANDOR
VAN DE MISPELAERE)
He is the father of the exceptional Fit For Fun and
numerous other horses. She is the only daughter of Ben
Maher's superstar mare Cella.
HOW TO BID
It is possible to bid from Hong Kong, Deauville or online on the website www.theauction.online after completing the application form available on the same website before 11 February 2019. Unregistered attendees shall not be allowed to bid on the day. You can also contact ARQANA directly with any question:
+33 (0)6 80 95 93 70
FROM DEAUVILLE ARQANA,
32 Avenue Hocquart de Turtot,
14800 Deauville, France
Welcome with a breakfast from 8.00am
Sale start at 9.00am
IN DUPLEX WITH HONG KONG AsiaWorld-Expo
Station Hong Kong International Airport Welcome from 15h30
Sale start at 16h00.
CONDITIONS OF SALE
Buyer's commission is 10% + VAT, applicable on the amount of the final auction. Payment may be made by check or wire transfer to ARQANA. Transfer of ownership takes place from the fall of the hammer. It is therefore up to the buyers to insure their purchases from the day of the sale. The Auction o ers an insurance solution that covers the mortality of the embryo and extends to 120 days after foaling.
Delivery of the carrier mare may be organised as soon as full payment of the embryo has been received by ARQANA. It is also possible to choose the "Breeding Package" according to which the carrier mare will be foaled down at a leading stud farm in Normandy and the foal raised until weaning or until it turns three.
Photos and videos :
http://bit.ly/PRTheauction20January
Press relations:
Alix Choppin
+33 (0)6 80 95 93 70 achoppin@arqana.com www.arqana.com
Michael Dorigo
+32 (0)496 25 49 49 md@ecuecau.be www.theauction.online
Links:
For all information about the Asia Horse Week and the Longines Masters of Hong Kong, please visit :
www.longinesmasters.com ww.asiahorseweek.com www.eemworld.com
In the photos
Emerald, Cornet Obolensky, For pleasure ( for the stallions)
Regina Z, Coriana van Klapscheut, Valentina van't Heike (for the mares)
Photo Gallery
Prev
1 of 5
Next